IoT Anomaly Detection Research Project
The Funded Grant
In academic years 2020-21 and 2021-22, IUP received funds in a very competitive program, NCAE-C Cyber Curriculum and Research 2020 Program, that is supported by the National Security Agency to conduct state-of-the-art research study focusing on improving IoT systems' security.
Project Description
The title of the funded project is "Investigating Effective and Efficient Anomaly Detection on IoT Systems via a Novel Fusion of Deep Learning Techniques." Its main goal is to develop a practical framework (that is based on a sound theoretical foundation) for the IoT anomaly detection in order to assess and improve the impact IoT systems have on the security of various networks. To achieve the project objectives, the projectwill develop a prototype for simulation and evaluation of the detection algorithms. This includes simulation and initial evaluation of the detection algorithms, as well as, corresponding data results regarding the performance and efficiency of the algorithms. Then, it will develop a physical testbed for further analysis and evaluation of the anomaly detection scheme. This includes an outline of architecture and implementation of IoT system, see the figure below for a proposed prototype for a smart building model.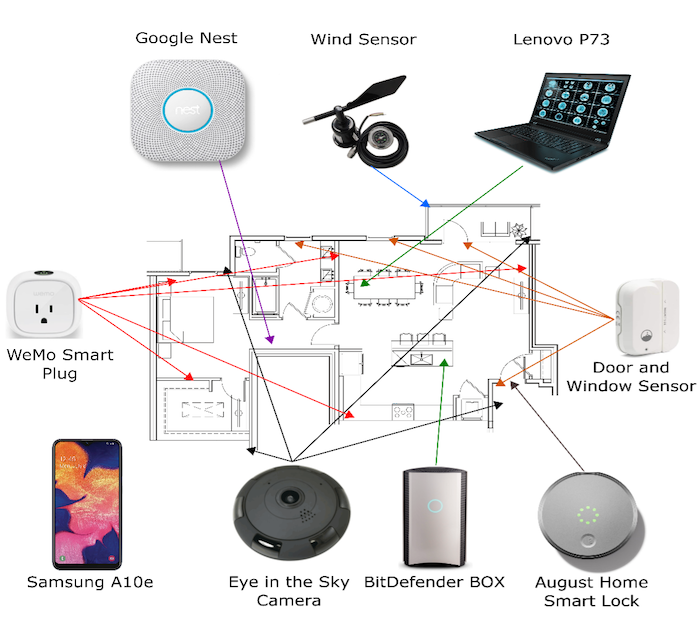 Project Outcomes
So far, work on this project has resulted in the following publications/presentations:
A. Robbins,W. Farag, X-W Wu, P. Chuadry, and S. Ezekiel, "Zigbee as a Candidate Standard for Use in Anomaly Detection in IoT LANs," in the Proceedings of the 2021 SPIE Defense + Commercial Sensing Annual International Conference, held in virtually, April 11-14, 2021.
A. Robbins, C. Lefever, W. Farag, X-W Wu, and S. Ezekiel, "The Building Blocks of a Zigbee-centered IDS for IoT Smart Buildings", a poster presentation at the IUP Scholars Forum held on April 8, 2021.
"The Building Blocks of a Zigbee-centered IDS for IoT Smart Buildings", a comprehensive paper that is currently being developed.
Project Meetings and Documents
Waleed Farag, the project director, the two Co-PIs, Drs. Wu and Ezekiel, and all student researchers are holding regular weekly meetings since early fall 2020. In these meetings, we address outstanding challenges, report of progress, and identify and assign research tasks for the next week. Listed below are detailed meeting documents  for this IoT Anomaly Detection Research Project.