You're ready to make it official and commit to IUP. We're so excited you're joining us. Welcome to the IUP family!
You're only two quick steps away from making it official and becoming an IUP student. First, you'll want to accept your offer, then you'll pay your tuition deposit. To guarantee your place in the incoming class and in on-campus housing, you'll need to pay your nonrefundable tuition deposit of $150 by May 1* for a fall start (for a spring start, two weeks before the semester), but you can accept your admissions as soon as you're ready. Here's how:
Make My Decision
Accept your admission
Log in to your IUP Admissions Account.
Click View Your Application/Next Steps to access your decision.*
Click Respond Now.
Read through the application details, then choose I Accept Admission.
Confirm your choice in the pop-up window by choosing OK.
Choose to pay your nonrefundable deposit now or later.
Pay your deposit
If you chose "pay later" and are returning to make a deposit, click Pay Deposit in your IUP Admissions account to navigate to the payment screen. 
Log in to your IUP Admissions Account.
Click Make Online Payment.
Enter your credit card information. You can pay using MasterCard, Visa, Discover, or American Express.
Click Submit.
Celebrate becoming an official IUP student!
*Make sure you double-check the program into which you've been accepted. If you have any questions regarding this, please call 724-357-2230 or email admissions-inquiry@iup.edu.
Your deposit should post within 48 hours. Once it is registered within the IUP system, you will have access to new information in your MyIUP portal, including links to orientation, your housing agreement, and your Hawks 100 classes. An email with instructions on setting up your MyIUP account will be sent to you.
You will also be able to access your IUP email by clicking on the email button within MyIUP.
If you'd like to make your deposit by mail, you can send a check or money order by mail for your nonrefundable deposit. Please make it payable to IUP. Include the student's name, University ID (if available) or birth date, and indicate that it is for the tuition deposit. Please mail to: Office of Student Billing, Clark Hall, Floor 1, 1090 South Drive, Indiana, PA 15705-1038. If you have questions about this process, contact the Student Billing Office at 724-357-2207 or student-billing@iup.edu.
Please be aware that it may take a week or more to process any deposits that have been mailed due to staff working remotely at this time. To expedite processing, please use your IUP Admissions Account to submit the deposit by credit card or e-check.
*We will continue to accept deposits from students after May 1, space permitting. To ensure a smooth enrollment experience, committing as close to May 1 as possible will allow you to effectively plan your summer. Orientations take place in June; Welcome Week happens in mid-August with the semester beginning the following week. Questions? Just ask!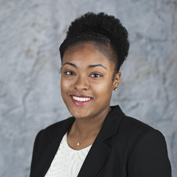 "I am incredibly happy to be a student at IUP. There are numerous opportunities and amazing faculty and staff who make me feel welcome and assist me in any way that they can."
Diamond Madison '19 was a biochemistry major, forensic biosciences minor, interned in the Allegheny County Medical Examiner's Office, and worked on research with an IUP professor.