Bsides Flood City Cybersecurity Event
October 26, 2023 - UPJ Living Learning Center
Event Overview: PC4A will be sponsoring the Bsides Flood City Cybersecurity Event, a large community event for private organizations, DoD/DIB Contractors, and educational institutions and their students to join together to share ideas, insights, and develop relationships.  PC4A staff will attend the event and operate a booth to share information about the PC4A project in an attempt to develop or cultivate strong relationships with local DoD/DIB agencies and contractors.  For more information, please see the news release or visit the Bsides Flood City webpage.  More details will be shared soon.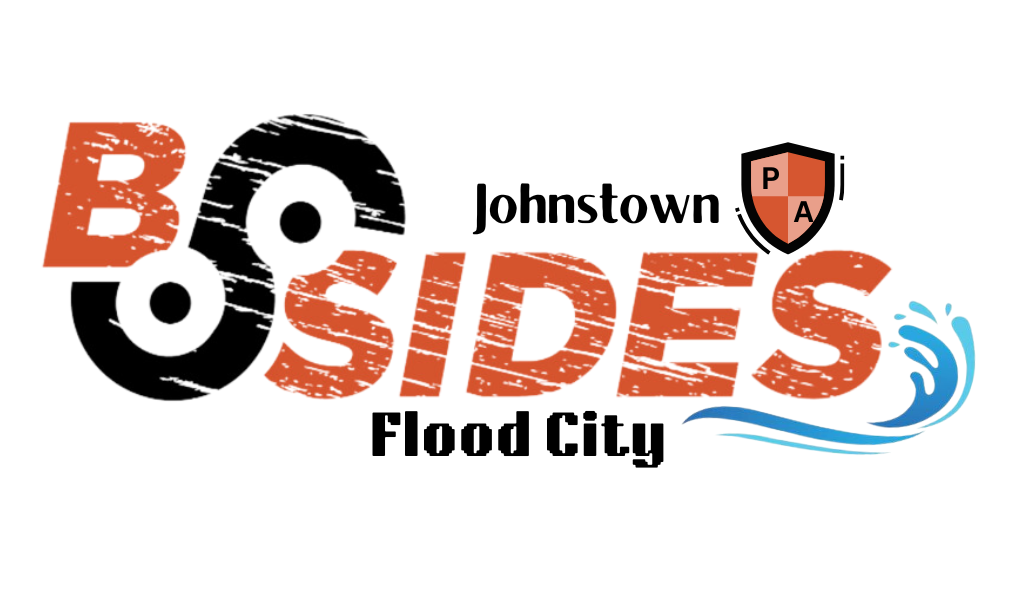 Tobyhanna Army Depot Internship Program
Launched in Fall 2023
As part of their efforts as partner in the PC4A Project, Northampton Community College staff have diligently worked with Tobyhanna Army Depot representatives to establish an internship program for STEM students. The program will officially begin in Fall 2023, and internships will be paid through the PC4A Project, funded by the US Department of Defense.  Almost 30 applications have been submitted for the internship program, and interviews are currently underway.  More details will be provided soon on the success of this program.
For more information, please contact pc4a-stem@iup.edu.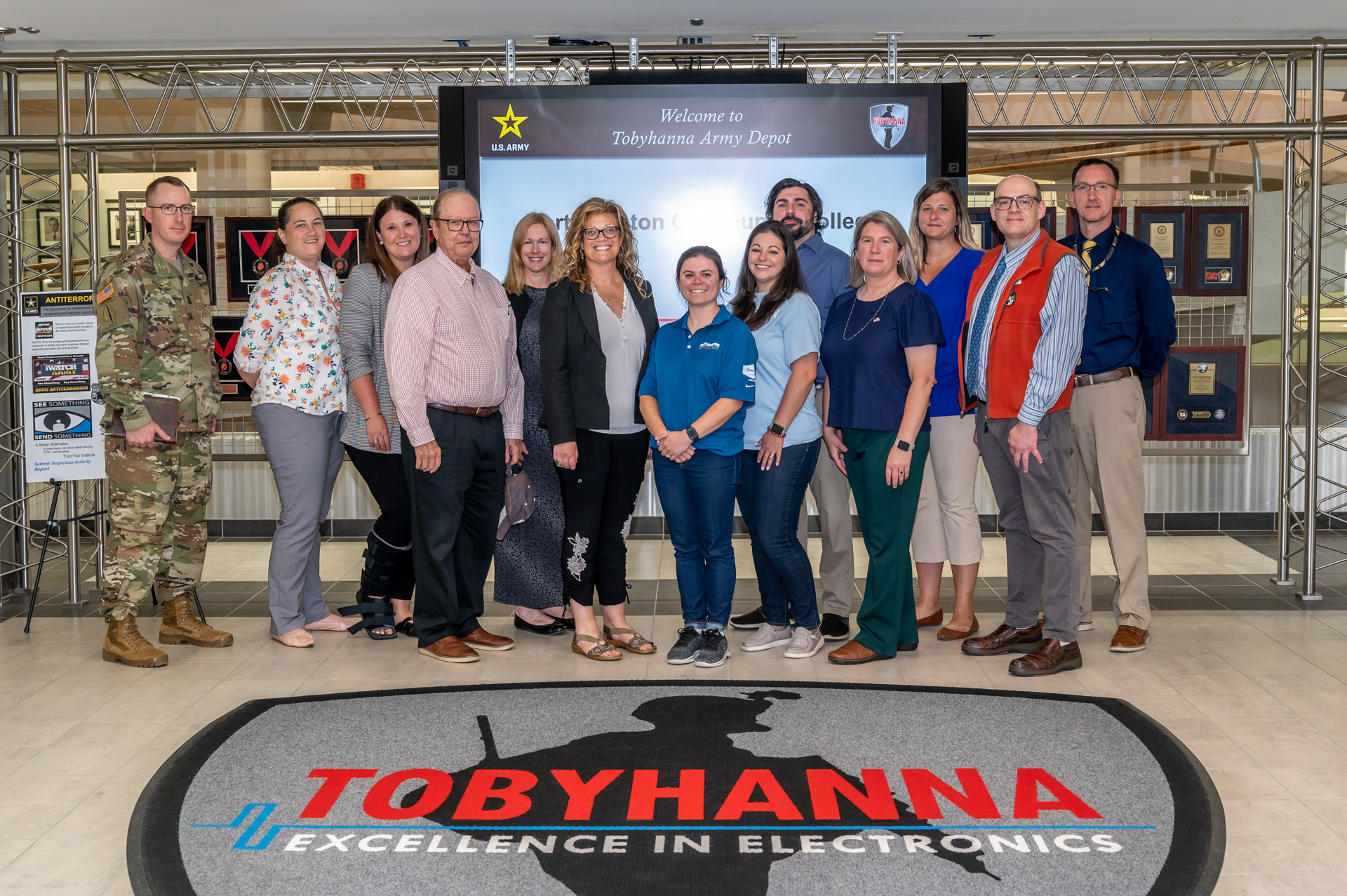 DoD NAVSUP Visit at IUP
April 11, 2023 - IUP Main Campus
Event Overview:  IUP President Michael Driscoll, CNSM Dean Steven Hovan, Math and Computer Science Chair Francisco Alarcon, and Director of the IUP Institute for Cybersecurity Waleed Farag hosted senior personnel from the DoD NAVSUP for an informational visit. IUP personnel provided a presentation to NAVSUP visitors covering programs, research, scholarships, and general information about the department. NAVSUP personnel presented a talk to our students and faculty about opportunities to work at NAVSUP and other DoD agencies. They also had an opportunity to meet with CySP recipients and current applicants. 
DoD NAVSUP Guests
Retired Lt. Col. Hal Gobin
Kathleen Lancaster
Ryan Nave
More Information
Download the visit agenda and speaker bios, or read the press release for more information.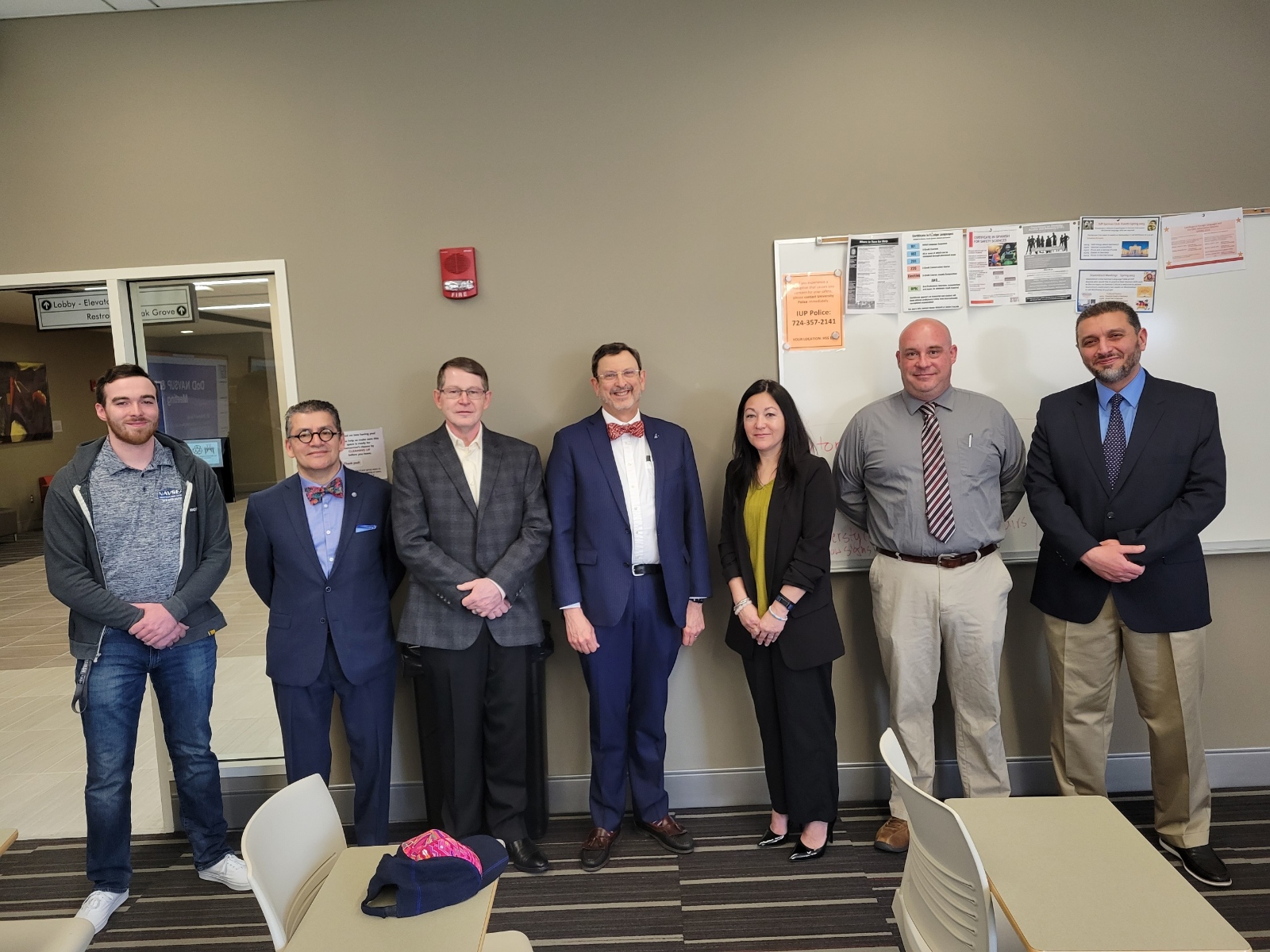 From Left to Right: Vincent Emery, Computer Science Student; Dr. Francisco Alarcon, Dept. of Math and Computer Sciences Chair; Retired Lt. Col. Hal Gobin, DoD NAVSUP; Dr. Michael Driscoll, IUP President; Ms. Kathleen Lancaster, DoD NAVSUP; Mr. Kevin Davis, DoD NAVSUP; Dr. Waleed Farag, IUP Institute for Cybersecurity Director (missing from photo: James Searer, Computer Science Student).
Information Warfare - Bryant Wysocki CS Day Presentation
October 18, 2022 - IUP Main Campus
Event Overview:  Each year, the Institute for Cybersecurity, in collaboration with IT Support, hosts Cyber Security Day. This daylong event features nationally recognized security experts as well as speakers from law enforcement, government, the security industry, and academia. Cyber Security Day is open to the public, community colleges, and neighboring universities. Bryant Wysocki, associate director Information Directorate, Air Force Research Laboratory,  presented a talk titled "Information Warfare" at the 2022 CS Day. This talk introduced operations concepts related to information assurance and the four pillars of information warfare. PC4A Partner WCCC faculty and students were in attendance at CS Day and had an opportunity to learn vital information from all presenters. Visit the Cyber Security Day. website for additional information on Wysocki's presentation, including other presentations that were provided during the event.
Questions
If you have any questions, please contact the grant principal investigator or project manager:
Waleed Farag
Director, IUP Institute for Cybersecurity and Professor of Computer Science
Lydia Taylor
PC4A Project Manager

The PC4A Project is proudly funded by DoD STEM.
Visit dodstem.us to learn more about the work they are doing to inspire, cultivate, and develop exceptional STEM talent through a continuum of opportunities to enrich our current and future DoD workforce. 
Any opinions, findings, and conclusions or recommendations expressed in this material are those of the author(s) and do not necessarily reflect the views of the Office of Naval Research.