Cook Honors College Admissions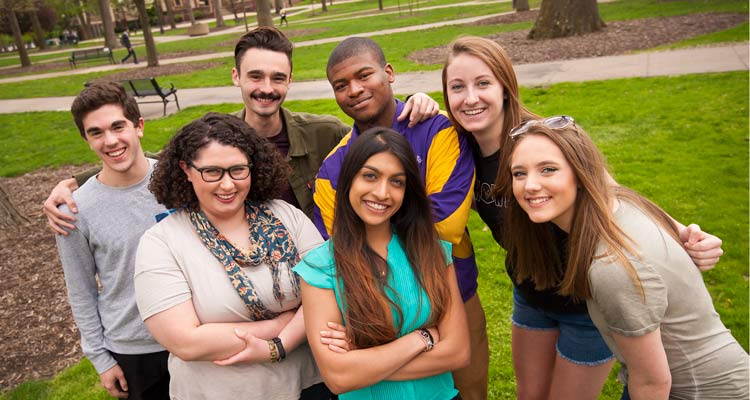 At the Cook Honors College, we believe an honors education should be about freedom to explore, rather than pressure to perform. We do things differently. There are no tests in Cook Honors College core classes. This shifts the focus from finding the right answer to asking the right questions. We read together, write together, and exchange ideas in classrooms where shared experience is the foundation of genuine self-knowledge. We evaluate evidence, integrate ideas, and create new understandings of ourselves and the world.
You'll find opportunities here for research, for expressing your talents, for personal growth, and for community service. We back you up with scholarships and an achievement fund that helps with the cost of internships and studying abroad.
From your first day here, you'll be part of our community of scholars, living in Whitmyre Hall and taking honors core classes in rooms filled with art.
Applying to Join Our Community of Scholars
As a Cook Honors College student, you'll begin the program in the fall semester.
Who is eligible to apply
Incoming freshmen
Current freshmen
Transfer students
International students
How to apply
Check out the Cook Honors College Application FAQ before beginning your application.
Submit the Application for IUP undergraduate admission. If you have not already submitted your application, you may use the online application or the downloadable PDF. On the application, make sure to complete the section indicating you are applying for the Cook Honors College.
Submit the Cook Honors College Questions Supplement online. These questions are required for Honors College admission only and will be reviewed by the Cook Honors College admission committee.
What you'll need to submit when applying
IUP application
Cook Honors College Questions Supplement
Transcripts
SAT or ACT scores
When you will hear back from us
We will review your application to IUP first, then your application to the Cook Honors College.
You should hear from the Undergraduate Admissions Office about your acceptance to IUP about two weeks after you've submitted all the required items. You'll be notified of your admission to the Cook Honors College after learning about your university admission.
We're happy to help you with any questions you may have.
Cook Honors College
724-357-4971
Undergraduate Admissions
724-357-2230