Professor Sekhar Anantharaman
"I didn't like it when I took my first accounting class, but then I was in the program and I had to take a bunch of accounting courses and slowly, once you get passed the basics and you get a grasp on it, it's actually a lot of fun. You would not believe it, but it is."
IUP Accounting professor Dr. Sekhar Anantharaman's academic career did not begin in his current field. A competitive entrance exam in his home country of India to get into engineering school started it off. After deciding he didn't want to become an engineer, he looked around for other possibilities, and he found accounting.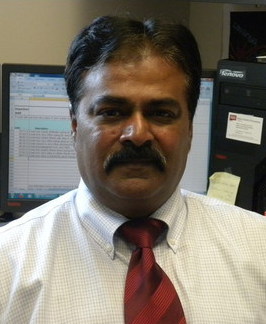 As a graduate assistant, Anantharaman got his first taste of teaching when the faculty member to whom he was assigned would let him go in and teach.
"He would do the lecturing," Anantharaman said. "The next class I would go in and do the problem solving. I got a taste for teaching, and I really enjoyed it."
It was that first experience that kept him in the academic field. After finishing his MBA from Indiana State in 1992, he made his way to the doctoral program at the University of Central Florida. The responsibility to the students and the interaction with them are what Anantharaman says he enjoys about the profession.
"My task is to make sure I can make them understand the material in the book in a way that's by the teaching process itself," he said. "By highlighting the main concepts, stressing on what they cannot afford to forget and demanding they come prepared, that they attend, they're not tardy. I respect them, and I expect them to behave like young adults."
He runs his classes in the traditional format of lecture followed by problem solving. He encourages students to ask questions, as long as they are related to the topic and tries to engage every student in his class.
Now in his sixth year at IUP, Anantharaman has found an institution that offers him more than just teaching in Indiana; the opportunity to travel as part of the job is made possible by IUP's connections around the world. Even though he hasn't been to very many places, traveling is something he enjoys. He's been to London, Japan, Singapore, and Malaysia but he hopes to add more to his list, including a tour of Europe.
"Ideally the place I should go to the weather should be decent and maybe a beach where my kids can have fun," he said. "You can find thousands of places like that."
One thing he loves about Indiana, Pa., is the weather, even if that may sound strange. The weather is conducive with how Anantharaman likes to spend his free time.
"I can golf everyday starting yesterday (mid- April) when I played my first round, probably going all the way down to the middle of October," he said. "Summers are gorgeous here. You will appreciate what I'm saying if you spend one summer in Florida."
Golfing is one more sport added to the many that he has been involved with during his lifetime. In 1981 in India he won a state championship in Karate. In addition to that championship, he also earned medals for sprinting and played cricket and soccer as a young man. Awards in the academic realm include recognition for journal articles and in 2008 and in 2010 he received a Certificate of Merit for scholarship.
"I view it as you do what you're supposed to do and those things will come to you," he said. "But that state championship didn't come to me easy. I had to fight for it, literally and figuratively."
Anantharaman also reads fiction books, particularly P.G. Wodehouse, a British humorist.
By - Alycia King