Professor Ibrahim Affaneh
"I find education to be a major component and the major requirement in life. You have education, you can do anything else."
Dr. Ibrahim Affaneh began his education in his home country of Palestine, where he graduated from Bethlehem High School. In 1962, he began his academic pursuits in Cairo, Egypt, at Cairo University. He earned his bachelor's in business administration in the standard four years, and started work at the Central Bank of Jordan. During his time there, he began to apply to universities in the United States for graduate school.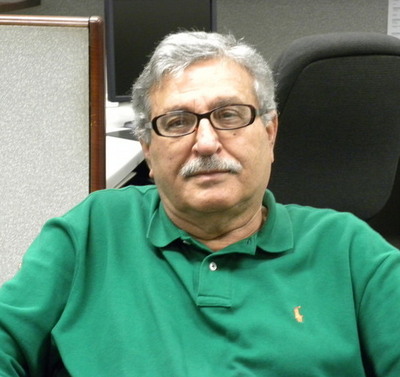 "I applied to 10 to 12 universities," Affaneh said. "Washington, New Hampshire, California, and so forth. I had a friend who said, Why don't you apply to Utah?' So I applied to Utah, and sure enough, I got accepted."
Even though he had been accepted to other universities, Affaneh said he chose Utah because of its Middle Eastern Center. His time at Utah, where he earned his master's and doctorate, allowed him some teaching experience as well, though it was not in business, but in an Arabic class, where he assisted the professor.
"Because I speak Arabic, I went and spoke Arabic to them (the students) and practiced with them here or there," he said.
After completing his doctorate, Utah hired Affaneh as a visiting professor. He worked there until an offer from Kuwait University came his way. The decision to go back to the Middle East was influenced by his marriage to a Palestinian woman, who wanted to go back.
The Affanehs moved back to Kuwait, where Ibrahim taught at the University of Kuwait for four years as an associate professor of finance and worked four years at the National Bank of Kuwait as an executive manager of development of human resources. When Iraq invaded in 1992, the couple headed back to the United States, where Affaneh found a teaching job at the University of Texas.
"I left the country and went to Texas," he said. "I taught there for a year as a visiting professor. I was planning to go back, but the situation in the Middle East deteriorated after the war. So I decided to stay."
Affaneh came to IUP in 1992 and has served as the Finance Department chair for 11 years. Teaching provides him the opportunity to be involved in something that he believes is important in life.
"I believe that everything starts with education," he said. "Whatever it is, everything in this world really is education. If you have a good education, good instructors, good faculty members who can deliver quality knowledge, quality skills, and influence students and younger generations positively, that's a great contribution to the society."
To prepare for his classes, Affaneh reads books about subjects that aren't just business-related. He reads about history and geography as well as others. In addition to books, he also reads the Wall Street Journal and periodicals. In his classes, he uses real-world examples from his professional experience, as well as examples of what is happening in the business world today.
In his free time, Affaneh enjoys walking, which he does every evening around the IUP track. He also spends time watching TV channels from both the Middle East and the States. Among his favorite channels here are the History Channel, Discovery Channel, and documentaries on CNN or FOX.
When he has the opportunity, he loves to travel to the Middle East, where his home country and the country he went to school are located. Outside of that region, his favorite country is Austria because, he says, it is gorgeous.
Most of his hobbies center around one thing: education. In his free time, he spends time thinking about the classes he taught and how to improve them, a process of broadening knowledge and transferring it to students.
"I evaluate myself on almost a daily basiswhat I covered, what I could have done differently to better make the point that I wanted," Affaneh said. "Even after I go to bed, or just sitting there, I think about what I covered, what I did, can I do it better? And the next time I'll do it."
By Alycia King