Professor Veronica Paz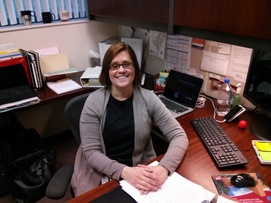 Veronica Paz, associate professor, is as passionate about life as she is about accounting.

She graduated cum laude from Florida International University, Miami, Florida, with a bachelor's in accounting and a minor in management in 1997. In 1998, she got her master's in accounting information systems from FIU as well. In August 2012, she received her doctorate in business administration with a concentration in accounting from Nova Southeastern University, Ft. Lauderdale, Florida.

She is a Certified Public Accountant (CPA), Certified Information Technology Professional (CITP), Certified in Financial Forensics (CFF), and a Certified Global Management Accountant (CGMA).

Paz worked as a CFO for 5 years with PuroSystems, Inc. while she worked on her doctorate. Early on in her career she had taught and loved it, but had forgotten about it as she moved on in her field. Later, she was reintroduced to her passion for teaching by her dissertation chair, who suggested that she teach a class. That was all it took for Veronica to get pulled into the world of academia again.

In late 2013, Paz started looking for a university job and landed an interview at IUP. She immediately fell in love with the campus, faculty and students as she toured and interviewed.

"After the interview, I canceled all of the other ones I had lined up," Paz said. "I thought to myself, this is where I want to be.'" Soon after, she got the job and moved from Florida to Indiana, Pa.

In her spare time, Paz loves to explore the arts. Between Broadway, classical music, ballet, opera and trying new foods, there is hardly a culture she hasn't explored. Just as she is passionate about life, she is passionate about accounting and her students.

Her teaching style is simple: "Work smarter, not harder!" She loves using technology in the classroom to aid her students and herself. Using a program called Doceri, she can connect her iPad to her computer to create interactive presentations for her students. She also uses programs such as Polling Everywhere which allows students to answer questions anonymously through their phones, displaying the results instantly.

"I want to make it as non-intimidating and as fabulously fun as possible," she said. "I like to keep students involved."

Her teaching interests include all types of accounting including financial, managerial, intermediate, auditing, forensic and information systems. Her research interests include financial reporting, CEO compensation, stock options, earning quality, corporate governance, fraud accounting, BOD and technology in the classroom.

-Casey Lemmons