Eberly Features: Dr. Parimal Bhagat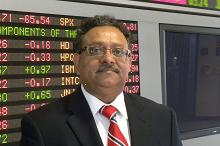 Papers on the desk, books on shelves, two computer monitors, and landscapes on his walls await anyone who walks into Eberly 402A, the office of Dr. Parimal Bhagat.
With an academic career that began in India in 1983, the Marketing Department chair has taught at three other institutions prior to coming to IUP in 2006. The University of Alaska Anchorage, William Paterson University of New Jersey, and Philadelphia University grace the resume of the professor. But marketing wasn't always in Bhagat's sights as a career. "I'm an engineer by undergraduate preparation," he said. "But then I worked as a sales engineer and got into industrial sales. Working as a sales engineer drew me into marketing."
Following an M.B.A. in marketing from the University of Delhi, India, he made the move to the United States in 1989 and earned his doctorate from Pennsylvania State University, University Park, in 1995. It was at IUP, however, that his career began to come full circle. A vibrant marketing faculty, the mid-size feel of IUP, and a small college town attracted Bhagat to IUP. Once here, he published over ten journal articles, designed and delivered three new and innovative courses, and served in several professional and university positions.
Currently Bhagat and a colleague, Dr. Charlene Bebko (who is actually leading the initiative), are working to develop an area of study and research at IUP called Cognitive Neuroscience Applications in Marketing. Bhagat said the area looks at the biological factors that drive consumer psychology, and it extends marketing knowledge using instruments such as EEG (electroencephalogram, an instrument that measures and records the electrical activity of the brain) and an eye-tracking monitor that are now available to measure brain activity. His interest in this area comes from his background in electrical engineering, and he designed a heart rate monitor as part of his senior theses.
"It is more than twenty-five years since I was introduced to biomedical instrumentation (the application of engineering principles and design concepts to medicine and biology). Now seeing applications of marketing in that area brings my whole career together in some ways."
In addition to chairing the Marketing Department, he also serves as the chair of the Eberly College Graduate Curriculum Committee and is a member of the Eberly College Strategic Planning Council, ACPAC Online Learning Action Team, and chair of a Special Interest Group of the American Marketing Association, a premier professional association in marketing with international membership.
When he isn't teaching or working on academic endeavors, Bhagat can be found with a camera in hand taking pictures of nature. The first camera he received at age twelve began his fascination with photography. In college, he started a photography club and fell deeper into the art. "I've been to Yellowstone, Yosemite, and I just got back from London and Barcelona," he said. "I've trekked the Himalayas for fourteen-day treks. Being outdoors and loving the landscapes drew me to photography."
While in Barcelona, Spain, Bhagat presented his latest work, "A Comprehensive Sustainability Index," based on a published paper in the International Journal of Business Strategy. The publication, co-authored with Dr. Madan Batra, is one of more than forty scholarly works Bhagat has been involved with.
His teaching at the University of Alaska Anchorage supported his hobby of photography, and, if not for the weather, he probably would have stayed there. "It was too cold, too dark," he said. Bhagat added that he would have stayed in Alaska, but the weather was too much for his family.
So if you happen to see the Marketing Department chair walking around with a Canon 5D in hand, you'll know it's just another landscape being added to the Bhagat collection. "I spend long times with the camera and going on photo shoots. I feel like capturing everything I see in the camera."
By Alycia King