Professor Kim Anderson
An accounting career that began at the age of 21 has grown and developed over the years. Dr. Kim Anderson, of the IUP Department of Accounting, earned her bachelor's degree in Accounting in 1981 from Ball State University, located in Muncie, Ind.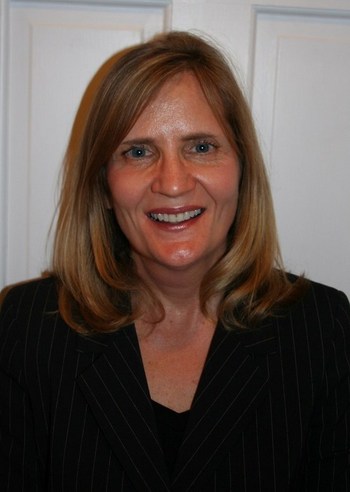 After graduating summa cum laude from Ball State, Anderson worked as an external auditor in public accounting for three years, earning her CPA license. Her move to Pittsburgh came in 1984, when she accepted a full-ride academic scholarship to the University of Pittsburgh's one-year MBA program.
"When I accepted the scholarship to Pitt, I had never been to Pittsburgh before. Like many people who've never been to Pittsburgh, my impression was that it was a dirty, undesirable place to live," she said. "But, I figured I could put up with it for a year. Well, fast forward 27 years, and I still live in the Pittsburgh area. I fell in love with Pittsburgh. Pittsburgh is such a down-to-earth, unpretentious city, and Pittsburghers are wonderful people. In fact, I married one."
After earning her MBA, Anderson worked as an internal auditor in industry for two years, then returned to the University of Pittsburgh to pursue her PhD in accounting, which she completed in 1994. She found her way to IUP in 1991. She was drawn to IUP due to its solid reputation in the area and its focus on undergraduate education.
Now in her 21st year at IUP, Anderson said mentoring students and helping them with resume writing, interviewing, and landing a job are very rewarding to her.
"I frequently hear from former students who now have successful careers in high-level accounting positions. There is nothing more fulfilling about being a professor than when former students thank me for helping them when they were students at IUP."
The recipient of four Outstanding Professor Awards, she said she enjoys teaching Intermediate Accounting Part One the most because the students are Accounting majors who are motivated to learn the material.
"Last semester, I taught two sections of Intermediate Accounting, and the students were fantastic. They worked hard, and I'm confident that many of them will go on to fulfilling careers in the accounting profession."
She also has a reputation for being a very challenging and hard, yet very fair, professor.
"In my opinion, earning an A in a course should be an honor," she said. "I often tell my students If you honor everyone, you honor no one.' When students get an A from me, they know it means they performed at a very high level, and they genuinely feel good about it."
Anderson specializes in behavioral auditing research and has published several articles on auditor decision making and has presented her research at various academic conferences.
In her free time, Anderson enjoys the outdoors, reading, and traveling. She also loves spending time with her two daughters, Meg, 11 and Stella, 9, as well as her husband, John, who is a consulting partner at a regional public accounting firm in Pittsburgh.
By Alycia King