Professor Krish Krishnan
"I worked in chemical engineering for a couple of years. Then I got bored."
Dr. Krish Krishnan used to work for a multinational chemical engineering company, but his heart just wasn't in it. So he made the move to marketing with his MBA from the Indian Institute of Management, Calcutta. He then earned his doctorate in marketing from the University of Pittsburgh, where he returned to teach after stints at Pennsylvania State University and the University of Louisville. In 1986, Krishnan came to IUP and got settled in by becoming the first chair of the Marketing Department.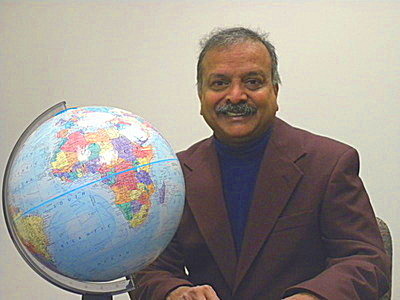 "I liked the fact that it had a good blend of teaching as well as opportunities to do research and professional work. It had a good combination of both," he said. "I was given the opportunity to do new stuff and build new stuff. People placed their confidence in me."
In his 25 years at IUP, Krishnan has grown the MBA program into one where students from 20 countries make up 75 percent of the program. He has also built partnerships with 15 business schools around the world that enable IUP students to travel abroad and international students to travel to IUP.
"That kind of ties in with my personal hobbies," he said. "International travel is another thing that sometimes people joke about, saying which country is Krish in?'"
Krishnan frequently gives guest lectures at the partner schools. Since January, he has been to France, Spain, Senegal, Morocco, and Liechtenstein. During Thanksgiving break he will visit Turkey, and during Winter break he will be teaching in India.
He also designed the EMBA program at IUP Pittsburgh East 15 years ago, and now he is working on the programs at Johnstown and Northpointe that will be launched in January 2012.
"Everything from recruiting to running that program, getting teachers involved in that program, and teaching in the program are my responsibilities," he said.
He also works with the on-campus MBA program and the more than 100 students enrolled.
When he teaches, Krishnan likes to get his students excited about the topics and incorporates the current information on the topic. He enjoys coming up with new ways of teaching and says if students understand it, they will know how to use it. One of the new techniques he is trying is producing lectures and demonstrations online.
"I believe you should be able to listen to my lecture on your iPhone," he said. "You should be able to use evolving technologies to be in touch with your students, to be able to point them to different sources of information."
His most recent academic article dealt with technology, specifically marketing websites and their cross-cultural differences. The research included five countries and how the websites catered to cultural needs.
With the research, travelling, guest lectures, EMBA and MBA programs, and teaching, Dr. Krish Krishnan is a very active and busy professor who has a passion for his job.
"I choose what I do research on," he said. "I come up with new ways of teaching, so it gives me a lot more satisfaction to work in this lifestyle than in a corporate lifestyle. It kind of matched my personality so it's these factors that drive me. I would not give this up any day."
By Alycia King