Professor Geoffrey Tickell
An Australian at heart, Dr. Geoffrey Tickell joined IUP's Accounting Department in 2006 after a teaching career in the land down under.
After completing his bachelor's degree in 1979, he started his career teaching high school. Tickell says he endured nine years of disciplining misbehaving 15-year-old students.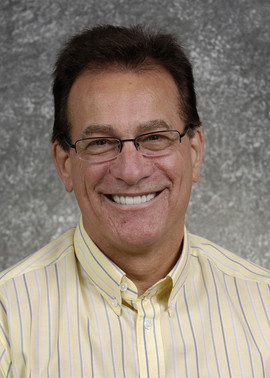 "None of them wanted to learn," he said. "The girls talked about their weekend parties, while the boys threw paper planes at each other. It took a strong lesson plan to keep them focused on the work."
Tickell believes it was in that high school environment where he learned his classroom management techniques he still uses today.
In 1989, while undertaking his master's in accounting, an unexpected discussion with a class colleague led to a job offer at the nearby community college.
"I accepted the position without knowing any of the employment conditions," he said. "That's how desperate I was to get out of high school."
It was during the 11-year teaching position that Tickell learned how educational institutions can be entrepreneurial.
"We started programs that no one else had even thought of," he said. "And enrollments were so positive that the programs were financially lucrative for the institution. The institution spent the extra income on the faculty. We had lots of end-of-year parties."
The entrepreneurial programs through the college allowed him to travel to New Zealand and Fiji on several occasions.
"I think the Fijian people are the most easy-going people in the world," Tickell said. "And they never forget a face."
But, by the mid-1990s teaching in the university sector became a goal for Tickell, so he enrolled in a doctoral program at Monash University. He feels that undertaking a doctorate was his best career decision.
"I knew then that to teach in a university, a Ph.D. would be required," he said. "Monash University was expanding, and they opened a new Ph.D. program. I was in the first cohort for the new program. The program required me to mature and become very focused on setting goals and pursuing them."
Upon completing this doctorate in 2000, he resigned from the community college and joined Monash as an assistant professor. But, teaching in the Australian university sector did not turn out as he thought.
"In Australia, the university hierarchy feels that, because they pay you, they own you," he said. "There is no such thing as academic freedom. And forget about wanting to take your four weeks' annual leave all at once. They give you so many responsibilities that you need to work during your vacation."
After six years of that, Tickell turned his sights elsewhere. A series of discussions over three or four years with Faye Bradwick, an IUP Accounting professor, at the American Accounting Association meetings led Tickell to accept a position at IUP as an associate professor. He has since earned tenure and a promotion in his six years at IUP.
"I worked very hard those six years because I could see that, at IUP, hard work is rewarded," he said. "I like teaching accounting because it is a subject where you can actually see when the light turns on in a student's head. That's a moment I cherish each time, because the student smiles and, all of a sudden, they are no longer stressed by trying to understand the content."
As with many of his colleagues, Tickell is a keen traveler and is not usually in Indiana during the semester breaks. He prefers to spend the time in Australia with his family or traveling in Asia.
From Australia to the United States and from Fiji to Asia, Tickell enjoys his time inside and outside the classroom.
"I'm an ordinary bloke trying to do the best job I can," he said. "If I see an opportunity for career advancement, I'll take it. Many of my colleagues have helped me to realize and seize those opportunities. I sincerely thank them for it."