Professor Joette Wisnieski
As she sits in Eberly 308L, Dr. Joette Wisnieski helps students with their advising with a smile on her face, her curly hair akin to her bubbly personality.
Her academic and professional careers may not have begun in the business field, but through a series of events, she ended up with a doctorate in business administration.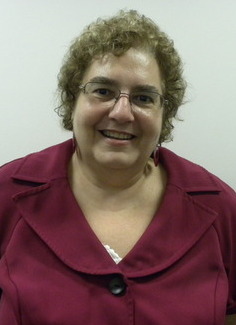 Her academic career began in the journalism program at Pennsylvania State University, and her professional career started at a newspaper. She eventually moved into the non-profit world, where the first nudges toward a career in business began.
"I didn't know about business; I'd never taken a class," said Wisnieski. "A lot of stuff we were doing, even though we were non-profit, was related to business. So I thought well, I'll take an accounting class, and I went from there."
The "useful thing to do," earning an MBA from Penn State, paved the way for her to earn her doctorate and her start in teaching. But before the doctorate, she went back to her journalism roots while staying home with her newborn son, Derek.
"I was doing consulting work with three or four companies, which was enough with a baby," she said. "I was writing their newsletters. I wrote some of their brochures. Then I got the perfect job."
That perfect job was at Penn State where she worked as the coordinator of research administrative services. She eventually left that perfect job and moved away from Pennsylvania for five years to pursue her doctorate from the University of Georgia.
After the completion of her doctorate, she saw the opening at IUP and jumped on it. Now 16 years later, she still maintains the same teaching philosophy.
"I expect my students to give me the 100 percent," she said. "I expect them to work to their full potential."
She prefers to be personal with her students, know them by name and interact with them. The size of IUP works well in that regard for Wisnieski. She gets to know the faculty of the college and know the students. She notes that even though the class sizes are growing, the opportunity to get to know the students is still there.
In the area of research, she is working on two projects in conjunction with other faculty members. The first is with Dr. Dorothy Gracey and a retired faculty member on the honors program for an educational journal. The other is a project for the Center for Rural Pennsylvania in conjunction with Dr. Prashanth Bharadwaj, Dr. Ramesh Soni, Dr. Stephen Osborne, and Eric Palmer. The group has already submitted one article to a journal and is working on another.
Outside of the office, Wisnieski enjoys reading science fiction, fantasy, romance, and mystery. In addition to reading, she is an animal lover and Disney fanatic. Her love for Disney grew with the addition of a daughter, Joelle, now 23. Her favorite movie is Mulan because of the strong female lead portrayed in it.
"I probably made my daughter watch it 1,000 times," she said. "You don't have to wait for your prince, you can take the lead here. It's not like I didn't like Snow White and Cinderella but I love that Disney has changed with the times. The newest Disney female lead in Brave never does meet her prince."
She went to see Beauty and the Beast when it came out in theaters for a short stint and has seen Beauty and the Beast and the Lion King on stage.
"When you have a group of students who are really interested in what you have to say, it's a fun class to teach," she said. "They're asking questions and they're involved and engaged. It's a lot of fun." She also said, " I am proudest of receiving the 1997 Eberly College of Business Teacher of the Year which was awarded by COBSAC. Coming from the students it meant a lot."
After a start that began with newspapers and non-profits, she now has an office in a business college teaching students, the whole reason why she loves the job.
By - Alycia King