Professor Madan Batra
Most college students at 21 years of age wouldn't think about stepping in front of a class and teaching, but Dr. Madan Batra did.
That first teaching job was in India and lasted four years after the completion of a bachelor's and master's degree at Delhi University, in India. While he worked for a multinational company, Batra decided he wanted to explore a career in academics.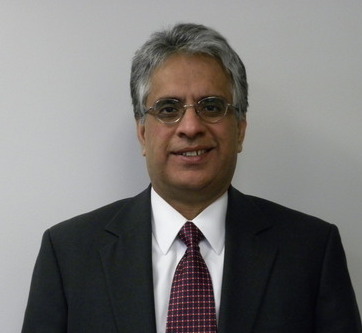 "In industry, if you've done your undergraduate, that's enough, maybe you want to do master's," he said. "But that learning context was not enough for me."
As Batra thought about doing his doctoral studies, he decided to explore other cultures as well. For this he did not just leave home, he left his home country of India for Canada, where he pursued his MBA before going to the University of Wisconsin-Madison for his doctorate.
His first teaching job in North America came during his doctoral program, when Batra was approached by his adviser to fill in for a faculty member who was going on leave. That class provided a learning experience he did not get while teaching in India. His class size jumped from 35 in India, to 150 in Wisconsin.
"That was a big difference," he said. "For two weeks or so it was challenging."
When online classes first began being offered by IUP in the business college, Batra taught some of the very first ones. He tries in his regular classes to blend technology and lecture. He gives assignments that can easily be done online to his students, so their class time can be spent doing other activities.
"I sincerely believe students learn gradually," he said. "We can't rush them. Also, they learn much better if they are being exposed to an interactive learning style. So I give them as many opportunities as possible to have interaction with other students."
Outside of the classroom, but still in the office, Batra works as the facilitator of internships for the college and works constantly behind the scenes to find creative ways to give students the best internship experience. His work as an internship coordinator has earned him awards from the marketing department and university.
"When you see that you're making a difference in students' learning, professional growth, and maturity, it is very fulfilling," he said.
Batra, in addition to working with internships and teaching, likes to do research in the area of ethics. Marketing and advertising ethics, cross-cultural consumer practices, self-marketing, and experimental education are some of the areas where Batra has published papers. Within the last five years, he has published six journal articles.
When he isn't serving the university or students, Batra enjoys time with his wife and children, getting together with friends, singing Indian classical songs, and watching movies from his native county. This year will be Batra's 25th year with IUP, and even though he doesn't live in Indiana anymore, he doesn't mind the commute.
"IUP is an institution where I can grow in multiple directions," he said. "I can do all three professional development activitiesteaching, research, and service. This aspect is fulfilling to me because I wanted to do all three of them in a very balanced way. Overall, the work environment in the college of business is very positive. That's kept me going here at this place."
ByAlycia L. King