Eberly Features: Richard Hoover
A law school graduate with dreams of working in the entertainment industry, but whoinstead ended up living in Romania and raising millions of dollars in investments with a friend he says was closer than a brother.
Richard Hoover went to Northwestern University School of Law following his bachelor's degree from IUP. His original goal to leave Northwestern for Yale never came to fruition, though. While at school, he met Valentin George, and after law school they packed up and headed to George's home country of Romania.
"I was disillusioned with the legal industry and studying website development while planning to seek a job in a web startup in Silicon Valley," Hoover said. "Val invited me to come to Romania, I thought why not?' While looking for work in Romania after I arrived, I would go to Val's workplace after hours and help him get ahead on his work. We had that type of close supporting relationship."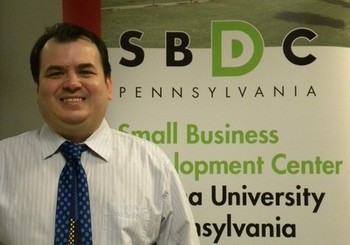 After working on acquisitions for companies like Samsung and Lukoil, Hoover and George decided in 1999 to form their own company: Evanston Capital Advisers. It took fourteen months for their first deal to close, however, and life was tough. But once the company got rolling, the deals came, including with a U.S. ambassador and Estee Lauder heir Ron Lauder.
The move back to the states came after George suddenly died before Christmas. One of the only pictures Hoover has of his friend sits in his office.
"That's why I actually picked up photography," Hoover said. "I realized I only have a handful of pictures of my friend, with only one, to me, that conveys a sense of his greatness. My saying is never again did I want to be without pictures of my life.'"
Hoover took his hobby of photography to shoot rock concerts, mainly Christian, for the past five years. Artists he has photographed include Switchfoot, Flyleaf, and Skillet. Concert photography, he says, is like capturing the grandeur of life.
After moving back to the United States, Hoover came back to Indiana, Pa. After working with a couple of law firms, he decided to look at what was available at IUP, where he had earned his undergraduate degree in Marketing. He interviewed at the Small Business Development Center and got the job. He finds this job to be what he was looking for.
"I like being able to evaluate the whole picture," he said. "I just find advising others in business more intellectually engaging, and that it makes better use of my creativity and ability to generate ideas than legal work."
Hoover uses his creativity in another of his interests: German- and European-style board games.
"My favorite right now is called 7 Wonders. It is my favorite because it is a game that can be played in under an hour, but is filled with strategic decisions. I call it the most bang for the buck; the most stimulating for the mind in under an hour."
He has ambitious plans for the SBDC, including wanting to make it one of the most attractive internship opportunities. Right now, there are six interns working with the center, and Hoover would like to see this continue and would like to see the center gain more exposure.
ByAlycia King