A man who loves to involve himself in service, Dr. Ramesh Soni of the Management Department has served on most, if not all, universitywide committees over the years. During the Spring 2012 semester, he served on six universitywide committees.
"That's me," Soni said. "I like to be involved. If there is a possibility of my contribution, I serve. I spend a lot of time at IUP. I'm here on weekends and in the evenings."
After being influenced by his father to go to school for textile (mechanical) engineering in India, Soni worked in the field briefly before moving to the United States to pursue his graduate degrees from the University of Texas at Arlington.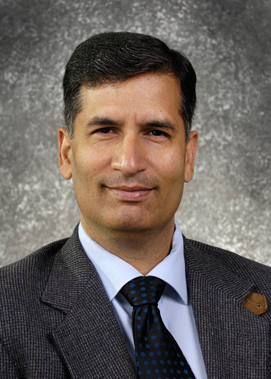 It was during his master's program that the nudge towards teaching began. In a class taught by Dr. Don Liles, Soni recalls being impressed with Liles' teaching.
"First, I was just impressed with his teaching, and I was also his graduate assistant," Soni said. "Then, one day, Dr. Liles suggested that I should do Ph.D. under him. I said sure. I absolutely had no idea previously that I would ever be teaching."
Soni discovered that he loved teaching. His first job at the University of Texas at Arlington, while he was pursuing his doctorate, provided him the opportunity to teach finance for engineers. His journey to IUP began while he resided in Texas, as he was applying to several universities.
"Sitting in Texas, I had never heard of IUP," he said. "I was hesitantshould I even apply? Anyway, I did."
Soni chose IUP because of the appeal of the area. When he came for the interview, the town was green and blooming, and the drive from the Pittsburgh airport to Indiana, especially on Route 286, he said, was very beautiful. The idea of a short commute to work was also a big bonus for him.
"I loved the idea that my commute is going to be only five minutes, not 45," he said. "I wanted to live in a smaller town. You don't have to worry about the traffic, which exists in the Dallas-Fort Worth metroplex where I was. So I decided to come here to IUP. Now, I am in my 24th year at IUP."
Soni views his role in the classroom as the facilitator with a constant push for improvement. He believes there is a better way of doing everything, including teaching. He teaches his students and he mentors them, but notes that they have to spend the time learning.
"I like to challenge them, but I don't want to set the standards so high that they would definitely fail," he said. "I believe a good teacher not only sets high standards, but also supports the students so that they can succeed."
His favorite class to teach is the graduate operations management class. It provides Soni the opportunity to bring in his background in quality management, and he can provide his students with more challenging assignments.
"You're dealing with more mature students, and you can push them a little harder and give them more difficult assignments," he said. "They will complain, but they're willing to accept some challenge."
When he isn't in his office or the classroom, Soni spends his time serving on university committees. During 2011-2012, he served on six universitywide committees and one state-level committee formed by the Pennsylvania Department of Education.
His work within Eberly improved the advising process to make it more efficient for both students and professors. The applied process improvement project will be one of his next publications. Soni considers himself "fairly active" when it comes to research, and does most of his work in the quality management area.
Outside of work, he spends time learning about consumer electronics, technology, and entertainment. Soni, his wife, and their two daughters also travel, visiting places both within the United States and abroad.
At the end of the day, Soni just loves Indiana, Pa., and the opportunities IUP has given him for teaching, research, and service.
"I love this job," he said. "The most interesting part of living in Indiana, for me, is it takes me five minutes during the rush hour' door-to-door. I love that part."
By Alycia King