Retired from the corporate world, but not from work.
Native Pittsburgher Stephen Osborne began his academic career at the university where he plans to stay until his "second retirement." An alumnus of the IUP Geography Department, Osborne did not become academically involved with business until 1982 when he participated in an intensive three-week executive program conducted primarily by Harvard Business School faculty. His work in international shipping, planning and economics, corporate planning, and as an oil trader for Gulf Oil Trading sparked his interest in management.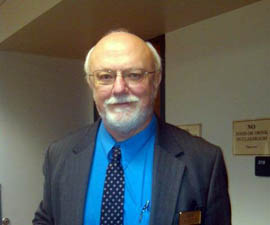 "Having spent a number of years in corporate management in Pittsburgh, Houston, and New York City, coupled with a Harvard-based executive program and an Executive MBA experience, led me to an early retirement and to pursue a Ph.D at the University of Pittsburgh."
In 1984, he joined the University of Pittsburgh's Executive MBA program after participating in an intensive executive development program in 1982. A decade after his first academic brush with business, he earned his doctorate in business administration, also from Pitt.
His first job teaching a management course came in 1988 at Pennsylvania State University in McKeesport, Pa. After that, he taught at the University of Pittsburgh, Slippery Rock University, and then at IUP.
"I came to IUP because it offers faculty members the opportunity to be involved in a broad range of activities, including teaching and scholarly- and service-related endeavors."
Four years after becoming a professor at IUP, he became involved with the Small Business Institute (SBI) of IUP, of which he is the director. The SBI is a student-faculty consulting program providing services throughout the region. The SBI has won fourteen national awards and, in 2011, took third place nationally as Project of the Year.
If you happen to venture down the hallway of the Management offices to room 308H, you will probably find Osborne working on something. The first thing that hits you when you walk in the room are the papers and folders stacked upon and around his desk. His computer screen is filled with icons of various folders, and boxes of books sit in front of the bookshelf.
Various plaques and certificates crowd the window sill along his office, awards that range from an Outstanding Teaching Award to an IUP Outstanding Achievement in Public Service award.
His outside-the-classroom activities include being a member of the Airport Authority Board of the Indiana County Jimmy Stewart Airport, area board member of 1st Summit Bank, and president of Four Footed Friends. His work with animals should not come as a surprise considering hehas six cats, three dogs, and a horse.
When he isn't serving the university or the community, he enjoys activities on the water, especially boating. At one point, he even owned a raft and braved the rapids.
"I have always had an affinity to the water, whether it be the rivers, the oceans, or lakes. I spent the first part of my career operating and managing an international fleet of ships."
Osborne says he has some research in the works, but at the moment he is working on setting up the IUP SBI program for the fall.
By Alycia King