Professor Prashanth Bharadwaj
He dreams of globalizing IUP to the extent that it becomes known as "International University of Pennsylvania."
Dr. Prashanth Bharadwaj, of the IUP Management Department, has traveled to nearly 40 countries in all the major regions of the world and has the hardware to prove it. Lining the window sill of his office in Eberly 308K are items from Australia, Brazil, China, Egypt, France, Morocco, Nepal, and Sweden, just to name a few.
"I've always loved traveling," Bharadwaj said. "When I was a kid, I knew where almost every country was on the map. My dream was to go to every place in the world."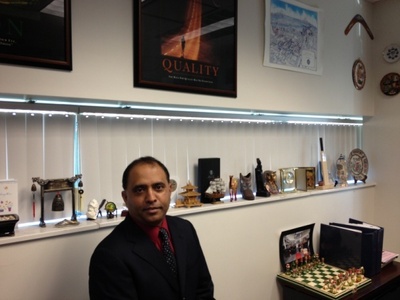 Traveling isn't the only way he saw new countries, though. When he was in high school, he moved with his parents to Tanzania, where he completed a year of high school. After that year, he moved back to India to live with his grandparents and finish out high school, but not without fond memories of living in a region he describes as from Disney's The Lion King.
"Giraffes to elephants to lions, hippos, rhinos," Bharadwaj said. "I saw prides of 20-plus lions in the Serengeti plains and in Lake Manyara National Park. It's unimaginable. It's incredible."
After graduating from high school in India, Bharadwaj earned his bachelor's degree in industrial and production engineering from Bangalore University. Then he moved to the third country he's lived in: the United States.
"My grandfather was the one who gave me the limited financial resources to come here," he said. "My grandfather said, You must promise to come back in two years.' Of course, I didn't keep my promise. I've been here for nearly 25 years now. But my grandfather slowly reconciled."
In that 25-year span, Bharadwaj earned two master's degrees, one in industrial engineering from the New Jersey Institute of Technology (NJIT) and the other, an MBA from Rutgers. It was at NJIT and Rutgers where professors and friends encouraged him to become a professor. So, he decided to stay at Rutgers and complete a doctorate in operations management.
After a short teaching stint at PACE University in New York City, Bharadwaj found his way to IUP in 1994. He served as the Management Department chairperson from 1999 to 2008 and was promoted to full professor in 2000. Since 2008, he has been serving as the college's dean's associate, a position that has allowed his dreams of globalization to grow.
In 2003, he was one of the 12 academic members selected from the U.S. for the AACSB/Keizai Koho Center Japan Study Tour because of his research on lean management and the Toyota Production System. In 2005 he laid the groundwork for the current PES-IUP partnership, a program which allows students from Bangalore to study at IUP and IUP students to study in India.
"I got in touch with an old friend, who was the owner/CEO of a renowned private educational enterprise in India (PES)," he said. "I wanted to do something in my hometown. When Dean Camp learned about this opportunity and met with my friend, he decided to visit Bangalore with me. The rest is history, as they say."
Because of the ensuing partnership with PES, around 100 American students have visited India and 35 IUP faculty members have traveled to teach there as part of the program. The collaborative MBA program has graduated nearly 500 students, of which about 300 have studied in Indiana, Pa.
During the summer of 2012, Bharadwaj and 45 Indian students visited a few of the major countries in Europe, including Belgium, Germany, France, and Holland. On the trip, the students had the opportunity to visit many businesses and hear from experts on the issues happening in the European Union.
"We'd taken students from India to Sri Lanka, Mauritius, and other Asian countries, but Europe was a great experience," he said. "These students were brought up in India, got the exposure in Europe, and now they're experiencing the U.S. Especially for 23- to 24-year-old students, it is hard to imagine getting this type of exposure they got. It was fantastic."
In addition to the program in India, Bharadwaj is looking into starting an executive MBA program in Singapore, and also is helping with a program in the Middle East. His interest in the India-IUP program and expanding similar programs in other countries carries over into his current research. One of the topics that Bharadwaj currently spends time researching is why the American MBA is so sought after around the world.
But research and the PES-IUP program aren't the only things that keep Bharadwaj busy. Many other activities keep the already busy professor going. He took a leadership role in the inaugural Eberly Common Reader program. One of the things he will be doing this Fall is conducting an educational and fun quiz event for Eberly students called Biz Wiz.
From the sports realm of working on getting his golf game going to playing racquetball and watching cricket to spending time with his 12-year old daughter, Bharadwaj keeps himself busy outside of his office. Eleven years ago he started a class to teach Indian children about Hinduism on Sunday evenings.
"The Sunday school is something I really enjoy because it has helped many kids," he said, "because they would have limited perspective about India since they were born and brought up here, including my own daughter. The class based on Hindu spirituality also helps me in keeping my ego educated."
Bharadwaj's service and research are integral as part of his job at IUP, and he has been active in them since day one. In 2001, early on in his teaching career, he received the University Distinguished Research Award. He has written multiple grants, has published in journals more than 20 times, has been part of the editorial team of five journals, and has chaired an annual international conference for more than a decade. All things he didn't think he would originally have at IUP.
"When I came here, I thought I'd stay for one year and then leave because I wanted to be in a research university," he said. "But, once I came here, I fell in love with this nice mix of teaching, research, service, and program development. I've really come to love this place. IUP is a place with a small school environment while providing big school opportunitiesfor both students and faculty."
By Alycia King