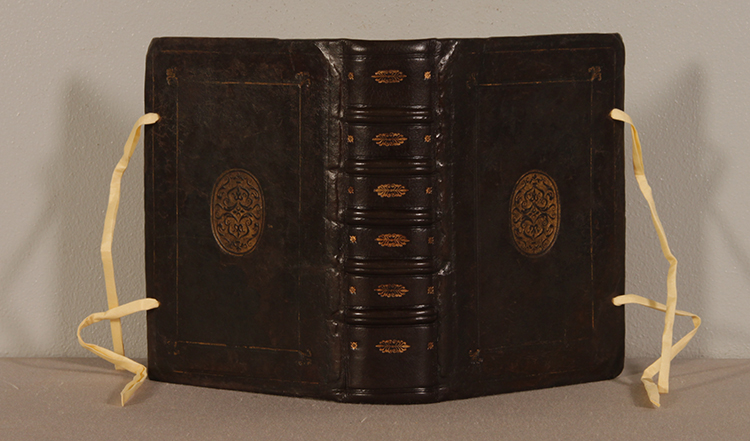 A restored Liturgical Pentateuch, written in 1566.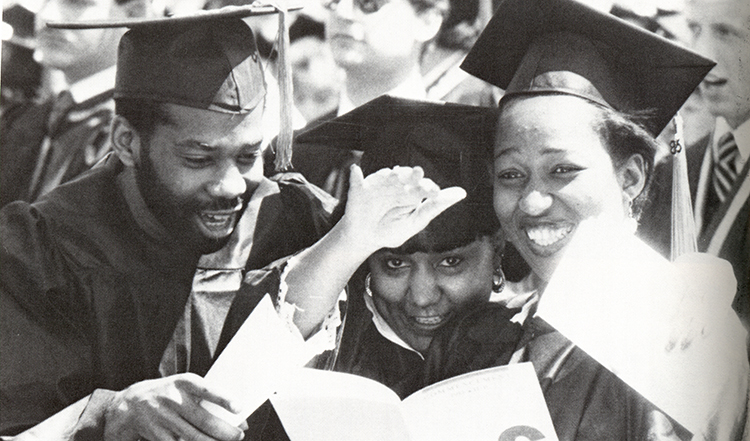 Graduating students celebrating at IUP's 1986 commencement ceremony.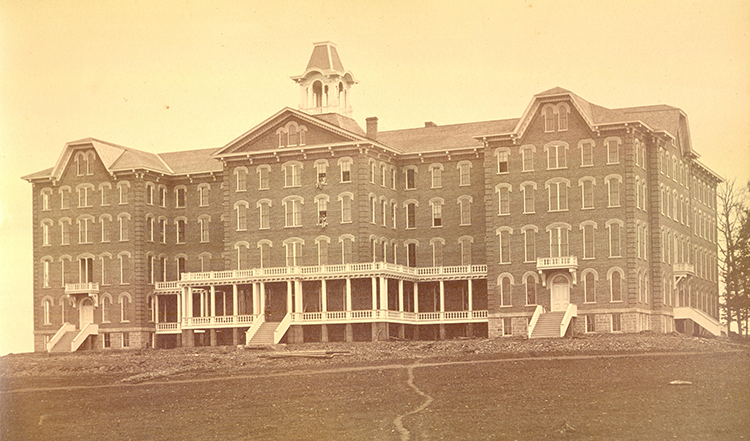 1874 view of John Sutton Hall, photographed by T.A. Cooper.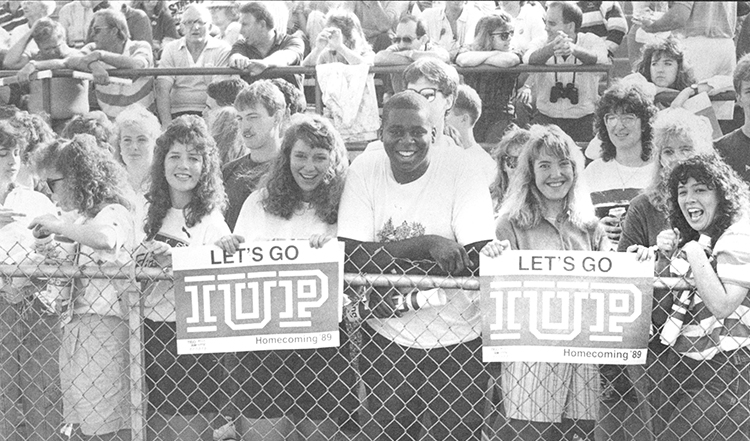 Students cheering on IUP at the 1989 Homecoming game.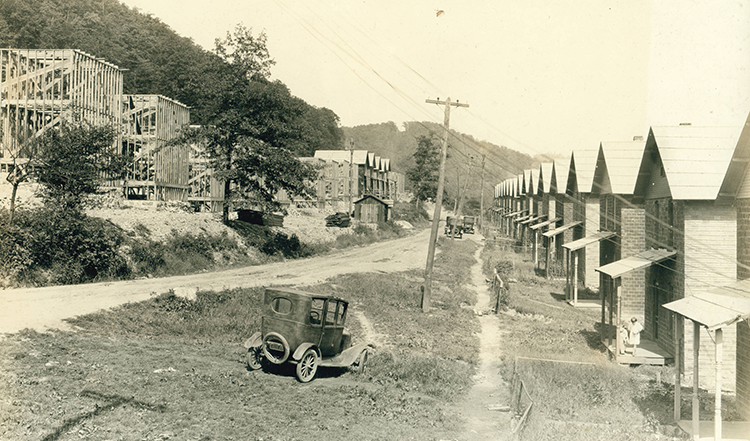 A photograph of Jefferson Street in Clymer, Pennsylvania, taken in 1923.
The Special Collections and University Archives at Indiana University of Pennsylvania actively collects, organizes, preserves, and provides access to research materials, rare books, and artifacts related to the institutional history of IUP and so much more.
You are welcome to use non-circulating archival collections and rare books in Stapleton Library Room 302. Office hours may vary. Please contact Dr. Harrison Wick at hwick@iup.edu to schedule your research visit.
If you have a research inquiry, we invite you to submit a request form.
Learn about archival information and primary sources found in Record Groups (institutional history) and Manuscript Groups (collections donated by individuals, businesses, and organizations).
Many titles in the IUP Libraries have been identified as rare books, limited editions, or are in fragile condition. Although books in the Pennsylvania Collection and the Rare Book Collection do not circulate, these titles can be found using the Search Our Collections feature on the department website. 
Schedule a research appointment by contacting Dr. Harrison Wick at hwick@iup.edu.
Contact the IUP Special Collections and University Archives if you are interested in donating memorabilia, rare books, or archival materials. Learn how the department is supported by our generous donors.  
Contact Information
Dr. Harrison Wick, Special Collections Librarian and University Archivist, hwick@iup.edu
Special Collections Stories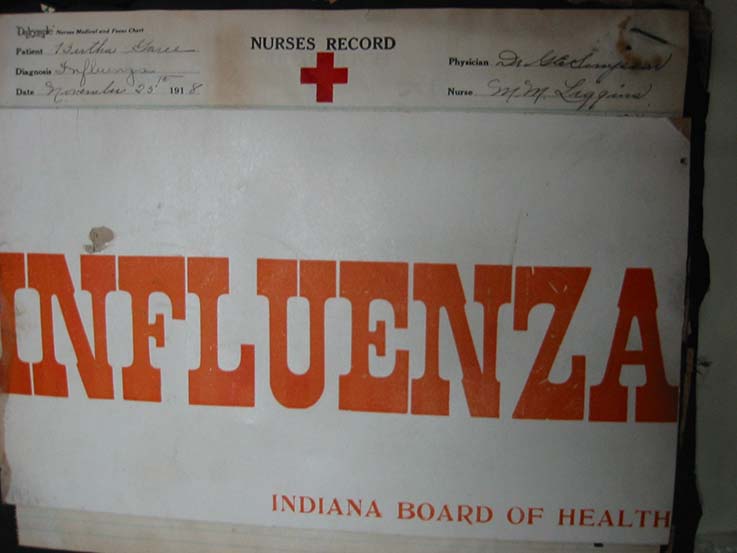 Documenting the 1918 Influenza Pandemic and COVID-19
Quarantine is nothing new to IUP. More than a century ago, Indiana County suffered from the influenza pandemic, which claimed the lives of millions of people worldwide. Indiana State Normal School (now IUP) was under quarantine in 1918. The photograph shows an Indiana Board of Health banner that was posted on the residence hall door of student Bertha Garee McLain, a 1919 graduate.  
The IUP Special Collections and University Archives contains many scrapbooks and other types of primary sources that document historical events throughout IUP's 150-year history. The Bertha Garee McLain scrapbook in Record Group 53 Box 38 is part of the IUP Memorabilia and Ephemera Collection.
The IUP Special Collections and University Archives welcomes donations of all types of materials related to your experience during COVID-19. This can include correspondence, course assignments, documents, interviews, personal reflections, photographs, scrapbooks, and social media.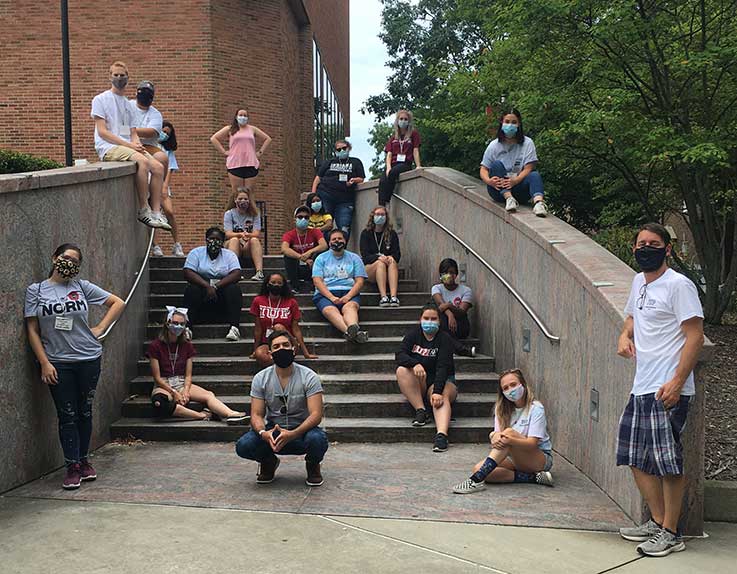 IUP Welcome Week Leaders, Fall 2020