A Walk Through Time: Pennsylvania Coal Culture
Featuring the Rochester & Pittsburgh Coal Company Collection
This exhibit featured artifacts, photographs, mine maps, and ledgers that document Western Pennsylvania bituminous coal culture in Armstrong, Cambria, Clearfield, Indiana, and Westmoreland counties, including the work and lives of miners and their families, the company towns, and community activities such as baseball games. The exhibit catalog provides a detailed account of the exhibit and the artifacts on display.
A Walk Through Time: Pennsylvania Coal Culture was co-curated by Harrison Wick and Rhonda Yeager from the Special Collections and University Archives at Indiana University of Pennsylvania, and presented in cooperation with Indiana University of Pennsylvania, the Tri-Area Historical Society in Nanty-Glo inCambria County, the Historical and Genealogical Society of Indiana County, and private collectors.
The exhibit featured photos and items which document the operations of Rochester & Pittsburgh Coal Company and other coal companies, mine disasters, coal miner strikes, and unionization. Some of the company towns in Indiana and Cambria counties which are highlighted in the exhibit are Clymer, Commodore, Coral, Ernest, Heilwood, Iselin, Nanty Glo, Sagamore, and Whiskey Run.
IUP actively preserves coal culture through the Special Collections and University Archives, the Institute for Mine Mapping, Archival Procedures, and Safety (IMAPS), and the Center for Northern Appalachian Studies.
R&P Coal Company Records
The Rochester & Pittsburgh Coal Company Records are the largest manuscript collection housed in the IUP Special Collections and University Archives and represent more than 100 years of local history. R&P was organized in 1881, and the collection is a complete record of the company until R&P was purchased by CONSOL Coal Group in 1998.
IMAPS
IMAPS is a multidisciplinary group of faculty, staff, and students who work together to digitize, record, and preserve historical mining maps. IMAPS has digitized more than five hundred maps, including mining maps from the Rochester & Pittsburgh Coal Company, using a large format Cruse scanner.
Institute personnel also are developing a web-based searchable database of Pennsylvania mine maps. For more information, visit the IMAPS website.
The University Museum is able to mount exhibits such as "A Walk through Time" because of corporate, foundation, and individual support. We gratefully acknowledge our sponsors, Rosebud Mining Company and the Weyandt Foundation, without whose assistance this exhibit would not be possible.
Lecture Series
As part of this exhibit, the University Museum hosted a series of lectures.
"Out of the Ground," a lecture and documentary film by Andy McAllister, presented at the Indiana Theater, downtown Indiana. A descendant of immigrant coal miners, McAllister works as the watershed outreach coordinator for the Greensburg-based Western Pennsylvania Coalition for Abandoned Mine Reclamation, a nonprofit organization serving 24 counties in the bituminous coal region of Western Pennsylvania.
"Life and Times in the Pennsylvanian Coal Swamp: The Origin of Pennsylvania's Coal Deposits" by John Taylor. A native of Indiana, Taylor is a resident paleontologist and stratigrapher in the IUP Department of Geography, Geology, Environment, and Planning. He was involved in collaborative research with the geology staff of the local Rochester & Pittsburgh Coal Company through the late 1980s and 1990s, and he has supervised numerous student research projects using the information in what is now the R&P archives collection at IUP.
"Pennsylvania's Coal and Iron Police: Patch Town Law Enforcement," presented by Spencer Sadler. Sadler is a local freelance writer and educator. He has collected stories and photos through traditional research and personal interviews, court documents, archived newspaper clippings, coal company records, journals, and other materials.
"I Sold My Soul to the Company Town: Company Control in the Coal Patches of Western Pennsylvania, 1910-1930" by Elizabeth Ricketts. An assistant professor of history at IUP, Ricketts teaches courses in labor and African-American and women's history. Her research and publications focus on the social, labor, and political history of coal miners in Western Pennsylvania.
"Strike! Lessons Learned from the 1927-1928 Coal Strike at Rossiter" by Jim Dougherty. This program will be held in McVitty Auditorium, Sprowls Hall. Dougherty is producer of the film The Struggle for an American Way of Life: Coal Miners and Operators in Central Pennsylvania, 1919–1933. He has coordinated oral history projects in numerous mining communities throughout the region.
"Unions: Roots of the Democratic Impulse' in District 2, UMWA, 1919-1946" by Irwin Marcus. This program will be held in McVitty Auditorium, Sprowls Hall. Professor emeritus with IUP's Department of History, Marcus created the university's first courses in US labor history, African-American history, and the history of protest movements. His research and publications focus on the history of Pennsylvania coal miners and steel workers, deindustrialization, and globalization.
"Researching Family History with Coal Culture Resources" by Rhonda Yeager. Archives assistant in IUP's Special Collections and University Archives, Yeager served as the Rochester & Pittsburgh Coal Company project archivist for 2006–07 and continues to assist patrons with research for the collection. She has taught a course on Introduction to Genealogy for IUP Continuing Education and is the co-curator of the museum exhibition.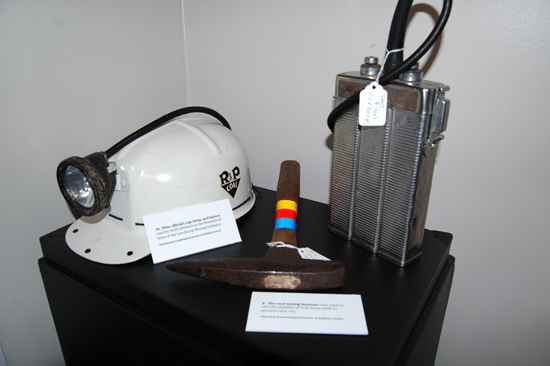 Additional Information
Miners with equipment photo courtesy of Susan Ferrandiz.
The IUP Special Collections and University Archives seeks coal company collections such as the Rochester & Pittsburgh Coal Company Collection to preserve and document the coal culture of Western Pennsylvania.