Patricia Hilliard Robertson
A Tribute to IUP's Astronaut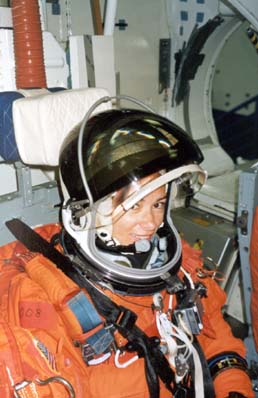 Patricia Hilliard Robertson, the daughter of Harold and Ilse Hilliard of Homer City, was born on March 12, 1963, in Indiana, Pennsylvania. She graduated in 1980 from Homer-Center High School. In 1985, she completed her undergraduate studies at Indiana University of Pennsylvania and earned a Bachelor of Science in Biology. In 2000, IUP conferred upon Dr. Robertson its Distinguished Alumni Award.
Upon completion of a medical degree from the Medical College of Pennsylvania in Philadelphia in 1989, Robertson fulfilled the requirements for a three-year residency in family medicine, and was certified by the American Board of Family Practice. Pursuing medicine further, she was one of only two selected for a two-year fellowship in Space Medicine at the University of Texas Medical Branch and NASA's Lyndon B. Johnson Space Center in Houston, which she completed in 1997. She joined NASA's Flight Medicine Clinic at the Johnson Space Center in 1997, prior to being selected to be an astronaut.
Robertson was a member of the astronaut class of 1998 and was assigned as a crew support astronaut for the Expedition Two crew presently on board the International Space Station. In that role, she served as an interface between the Mission Control Center Flight Control Team and the Astronaut Office on issues related to the Expedition Two crew and, along with other astronauts, coordinated activities on the ground for the three crew members in space.
Experience
Prior to completion of her fellowship in space medicine, Robertson had been part of a group practice in Erie, Pennsylvania, and also a member of the staff of St. Vincent Hospital, where she served as the clinical coordinator for medical student training. As clinical coordinator her duties included providing training supervision for resident physicians. During her enrollment as a Space Medicine Fellow, Robertson studied eccentric and concentric resistive exercise countermeasures for space flight, upon which her research project was based.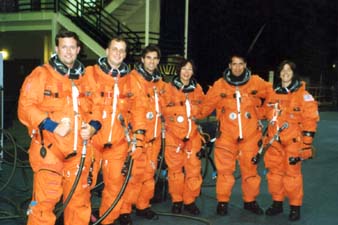 Robertson later served as a faculty member at UTMB and also provided health care for astronauts and their families at Johnson Space Center before her selection by NASA in June of 1998. After being selected by NASA, she participated in Astronaut Candidate Training, an intense orientation of briefings and tours, as well as scientific and technical briefings. The program also included instruction in Shuttle and International Space Station systems and preparation for T-38 flight training. Among her technical assignments she served as the office representative for the Crew Healthcare System (CHeCS), and as Crew Support Astronaut (CSA) for the ISS Expedition 2 Crew.
Mission Specialist
Robertson's completion of the astronaut candidate program qualified her as a regular member of the astronaut corps and made her eligible for a choice of various flight assignments. As a mission specialist candidate, she learned a number of responsibilities including coordinating on-board operations such as crew activity planning, use and monitoring of the shuttle's consumables (food, water, and fuel), and conducting experiments. Mission specialists also perform on-board experiments, spacewalks, called extravehicular activity, and payload handling functions involving payload support equipment.
In addition to being a medical doctor, Robertson was a multi-engine rated flight instructor and avid aerobatic pilot with more than 1,500 hours of flight time. In her free time, she enjoyed flight instructing, aerobatics, and flying with her husband, Scott Robertson.
Dr. Robertson died tragically on May 24, 2001, from injuries sustained in the crash of a private plane at Wolfe Air Park in Manvel, Texas. The Patricia Hilliard Robertson Center for Aviation Medicine at the Indiana Regional Medical Center was named in her honor in 2009. Learn about Dr. Patricia Patricia Hilliard Robertson from the Memory Scrapbook created by her family and friends.

Manuscript Group 144: Dr. Patricia Hilliard Robertson Collection was generously donated by her mother, Ilse Hilliard. Please visit the IUP Special Collections and University Archives to see a permanent display dedicated to the memory of IUP's astronaut, Patricia Hilliard Robertson, Class of 1985.