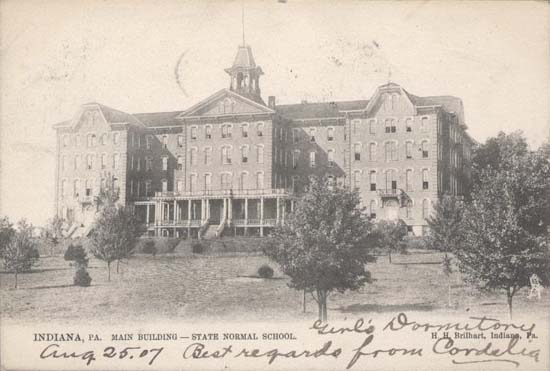 IUP has a long history in Indiana, Pennsylvania. Founded in 1875 as Indiana Normal School, the institution was later purchased by the Commonwealth of Pennsylvania in 1927, becoming Indiana State Teachers College, and subsequently Indiana State College in 1959. After achieving university status in 1965, the school became Indiana University of Pennsylvania.
IUP Libraries Special Collections and University Archives takes pride in maintaining a strong and extensive collection of materials covering the history of IUP, from the school's founding figures and moments to the lives of individual students, faculty, and staff.
We've provided links to just a few of the resources we have below. In addition to those, make sure to look at our photographs and images and IUP publications.
History
From our beginnings as a small Normal School in the mid-1870's, with an enrollment of just 225 students, IUP has grown into the large, modern doctoral institution we are today. Take a look at our timeline of major milestones in IUP history: where we've been, and where we're going.
Books
Centennial Scrapbook: A Graphic History of Indiana University of Pennsylvania, 1875-1975 : Written to celebrate IUP's centennial, the Centennial Scrapbook combines image clippings, newspaper articles, and historical background on IUP.
Articles and Websites

Dissertations and Theses about Indiana and IUP