Academic Opportunities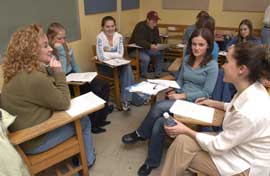 How's this for academic opportunity?
Taking classes with faculty members rather than graduate assistants
Having professors who know their names
Getting involved in actual research projects as undergraduates
Continuing the learning process in student housing facilities
IUP offers that and more. Known for a high-quality, affordable education, IUP has been recognized in the Princeton Review's Best Colleges guidebooks (named among the "Best Northeastern Colleges"), How to Get an Ivy League Education at a State School, Time magazine, and U.S. News and World Report.
Our Eberly College of Business has been recognized in the Princeton Review's Best Business Schools guide, and our Robert E. Cook Honors College was featured in Donald Asher's Cool Colleges: For the Hyper-Intelligent, Self-Directed, Late Blooming, and Just Plain Different.
Undergraduates can choose from more than 140 majors.
Students can start earning college credits before they graduate from high school.
Undergraduates present their original research, scholarly activities, and creative endeavors.