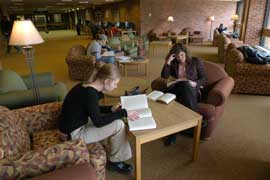 Whom do you contact about student records? What are our policies concerning changes to schedules, majors, or grades? What academic support services do we offer?

Find information about resources available to our students:

This office can help with questions about student records, class scheduling, academic policies, and more.
Learn more about academic policies, colleges and departments, programs of study, courses, and more.
From job fairs to mock interviews to résumé help, we offer a number of services to help students prepare for life after graduation.
Support services geared toward helping students prepare, succeed, and excel in their college curriculum.
Did you know a student's signature is required for the release of information from his or her academic records? Learn more about this privacy act.
Learn about resources that help students to achieve academic success, from the Writing Center to the IUP Libraries to our tech support.