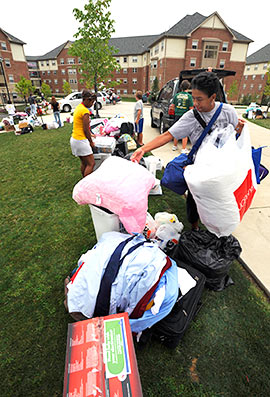 What should your student bring to campus?

Pillow, blanket, bed sheets, bed spread, and mattress pad
Towels, laundry bag, or basket
Sturdy key ring
Bath bucket (to carry shower supplies in traditional halls)
Hangers, sewing kit, and first aid kit
Hair dryer
Flashlight
Coat, jacket, and umbrella
Non-halogen study lamp
Throw rug
Alarm clock with batteries
Items to decorate the room!
Be sure to check out the Office of Housing and Residence Life for more information on residence-life issues and securing your meal plan.