Health, Support, and Programming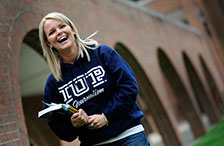 IUP wants students to grow personally as well as academically. As a result, the university has various resources and programming for personal growth and support.

Find information about resources available to our students:
The Rhonda H. Luckey Center for Health and Well-Being is the catch-all organization for all thing related to student health issues, beginning with the university's student health-care provider. Students will also find there counseling services, alcohol and drug assistance, and information about maintaining healthy lifestyles.


This is a look at the information we give to students about living here, working here, and playing here. We encourage students to get involved in campus life by joining clubs and organizations; attending concerts, plays, lectures, etc.; and taking advantage of cultural opportunities.


Your student's Activities Fee makes him or her a member of the association. Through the Co-op Association, students have access to many recreational facilities and an abundance of programming.