For Parents, Who We Are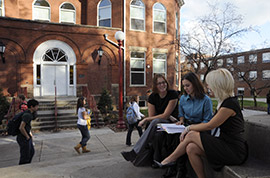 IUP is a research-based, student-centered community comprising distinguished faculty members and more than 11,000 students from across the nation and around the world.
Learn more about us:
Learn about how we grew from our founding in 1875 to the present.

Our Location: Indiana, Pa.

With a population of about 35,000, Indiana, Pennsylvania, is 55 miles northeast of Pittsburgh and 180 miles northwest of Harrisburg.
Learn more about our students, faculty, and what we have to offer.
How do you get here and where can you park?
Find out what's been happening lately on campus.
See what upcoming events will be happening at IUP.
See our magazine, published three times a year for roughly 118,000 alumni and friends of IUP.

Oak Grove

This park-like setting is at the heart of campus.
Learn more about IUP by following us on Facebook, YouTube, Twitter, Instagram or Snapchat.
Note: Information current as of October 9, 2018.