Indiana University of Pennsylvania invites exemplary students to earn college credits through our Dual Enrollment Program.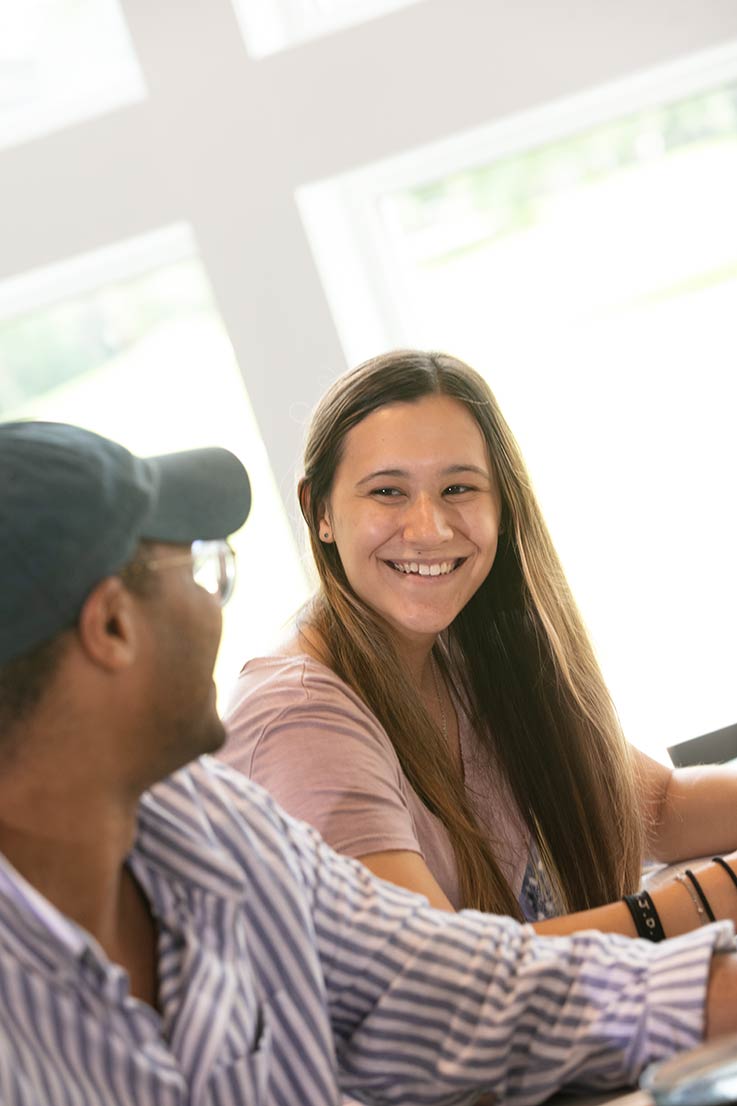 This program allows sophomores, juniors, and seniors to take IUP liberal studies courses, experience college, and start preparing for their future goals while still in high school. Courses may be taken online or in the classroom at the Indiana, Northpointe, or Punxsutawney campuses. Students may begin taking courses through the dual enrollment program in the summer semester between their freshman and sophomore year continuing through the spring semester of their senior year.
Sophomores are restricted to one course in the fall and spring semesters. Juniors and seniors can register for up to two courses per semester in the fall, spring, and summer semesters. Sophomores are restricted to one course in the fall and spring semesters. During the summer, dual enrollment students may register for courses during Summer I or Summer II only.
You Can Get Ahead
Successful completion of the coursework will earn you regular college credits, which will be applied to your official IUP transcript. In addition, all credits meet IUP's academic curriculum requirements for degree completion. If you decide to attend another university, most of the credits you have earned may be transferred to that institution after enrollment has occurred, according to their transfer policies.
You Can Save Money
Students who earn admission to the dual enrollment program pay a significantly reduced rate: a 75 percent discount on tuition per credit, plus they may be eligible for a $200 scholarship in both the fall and spring semesters applied to one course. Students who apply to the STEM Academy program may also be eligible for additional scholarship funding. IUP no longer requires school districts to sign a Memorandum of Understanding to participate in our program. We have expanded our discount to include students who are enrolled in a US high school (public, private, charter, cyber) or to students who are homeschooled with a domicile within the United States. Courses must be approved by IUP and the high school counselor.
Learn more about our IUP Punxsutawney dual enrollment opportunities.
Eligibility
Students must have a minimum of a 3.0 CGPA
Have school counselor approval to participate
In general, students are restricted to liberal studies courses. If a student wishes to register for a course not on the suggested course list, approval is required.
Students now have the option to apply to undergraduate admissions through one application. You may select your interest in IUP and your major through our dual enrollment application.
Additional Benefits
An opportunity to earn credits that may apply toward a bachelor's degree as well as have the potential to be used as dual enrollment credits for high school graduation requirements.
A résumé-building activity that will make college applications more competitive.
You get to experience IUP as a student; try us out—we think you will enjoy it and want to stay!
Courses are taught by IUP professors.
How to Apply
Use these steps to help you create your account and submit your application.

Go to the free online application. You will create an Admissions Profile with your personal information. 

Make sure you write down the password you created under Profile Information—you will need it for the future!

After entering your profile information, click the Apply Now button to complete the application and click Submit.

If you have already created an Admissions Profile, click the sign-in option at the top of the page to submit your application.

Please note: if you are submitting multiple applications, you will need to create an Admissions Profile under step 1 for your first semester before you can submit the application, and then for the next semester you will click the sign-in option on your account to submit the application.

Use this guide to help you navigate our schedule of courses to find the courses that work for you.

Complete the course registration form with your guidance/school counselor. This form requires both the student's and the counselor's signature for processing. If the student is under 18 years of age, this form will also require a parent's signature. (Required every semester.)

Submit an official high school transcript-first semester only (Requires a 3.0 CGPA or better to be eligible to participate)

Submit a signed transcript release form (required every semester). The official transcript must be sent to the high school counselor. Additional transcript requests will require a separate transcript release form to be submitted.

After we receive the completed application and required forms, we will process your request and, if approved, email you using the email address used on the application. You should receive a response within three business days.
We will communicate with you through the email address used on your application. Please make sure you are checking it regularly, including the junk filter so you do not miss any important information from us. All new dual enrollment students are required to participate in an online orientation via Zoom prior to the start of each semester. The orientation dates will be emailed to the student after they are admitted and registered.
If you have questions or need assistance, please contact:
Kristen O'Hara
Director of Enrollment Engagement and Partnerships
kaohara@iup.edu or 724-357-2789