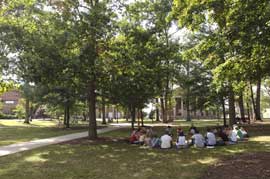 Coming for a visit is the best way to get to know our campus.
The following information can assist you:
Visiting our campus is the best way to get to know us.
How do you find us and where can you park?
Find a list of hotels in the Indiana area.
With a population of about 35,000, Indiana, Pa., is fifty-five miles northeast of Pittsburgh.
See how we introduce ourselves to incoming students. There's also orientation for parents.
This park-like setting is at the heart of campus. Get a live look with the GroveCam.
Take a self-guided tour of campus, hosted via videos by crimson guides. A full tour and a shorter, 30-minute option are available. Start the tour at the parking garage or any stop.