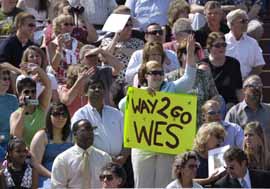 Whether catching a football game, watching the Homecoming parade, coming to Family Weekend, or just reading student newspaper the Penn—there are many ways for you to stay involved in your college student's life.
Find out about upcoming sporting events.
From the parade to the football game, plenty of events are offered each year for current students, as well as alumni returning to campus.
The Indiana community welcomes students and their families to take part in a variety of activities.
Our student newspaper is printed Tuesdays and Fridays while school is in session. See what's happening at the university and in the surrounding community.
Find campus bulletins, general IUP news, special events, and more.
Students have certain rights with respect to their education records. Learn more about this privacy act.