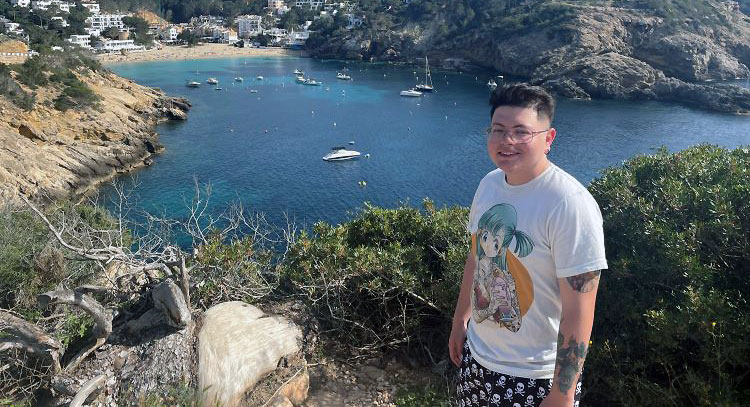 When we invite you to join our community of scholars, we're investing in you—your passion, your journey, your ideas. We want to be a catalyst for the amazing things you'll do as you enter this new chapter in your life, so we bring together the personal attention, financial resources, and support that can make it all happen.
What You'll Experience in the Cook Honors College:
You'll take no tests in core classes. We challenge our students in different ways—we write together, read together, and exchange ideas in small classes of about 20 students.

You'll have the advantage of our Cook Achievement Fund, which helps our students pay for additional learning opportunities such as studying abroad, attending a professional conference, or doing an internship. Students have visited and studied in a variety of countries around the world with help from the fund.

You'll receive a scholarship. All Cook Honors College students receive four-year, renewable scholarships. We invest in all of our students and value every student's contribution to our community.

You'll get the kind of support and advising that makes a real difference. We think going to college is about more than earning a degree. It's about what happens to the whole of you during these four years of your life. We help you work out a four-year plan that makes the most of this time and sets you on your own personal path toward your goals.

You can participate in the Honors College's student-led theater group, in addition to the more than 250 clubs and student organizations at IUP. Open auditions for most IUP theater productions and music ensembles, a student-managed investment group, and other opportunities give you so many options.

You'll have access to academic opportunities such as working on undergraduate research with professors.

You'll enjoy the benefits of our selective admissions policy, which limits the number of students in the program (freshman to seniors) to around 400 total. This gives you a big advantage compared to students in other honors college programs that, in some cases, admit more than three times* as many students.

You will have the kind of scholarly preparation that has helped our alumni go on to study at a long list of graduate schools and law schools, including Harvard, Stanford, and the University of Chicago and find career success at employers like Alcoa Inc., Bayer Corporation, NASA, Chevron, the Cleveland Clinic, and big-four accounting firm KPMG. An alumnus was the youngest member of the Pennsylvania House of Representatives when he took office, and he went on to become majority leader.

You'll have exclusive access to honors housing that is the best value on campus. All Honors College freshmen live together to build friendships and support each other. After the first year, you'll still have open access to Whitmyre Hall regardless of where you live, giving you a "home" on campus.
A Personal Choice for the Next Four Years
If you are considering the Cook Honors College at IUP, you will probably do well wherever you attend college. That's why your choice is so personal, so individual. You're not just choosing a school—you're choosing a place where you will be happy, challenged, and supported for the next four years of your life.
You're also choosing what you want your situation to be like when you graduate—both financially and in terms of the friendships you've made and the opportunities you've been given along the way.
Intelligent, dedicated, amazing students choose to come here, year after year to explore ideas, scholarly debate, hands-on experiences, service to others, and divergent thinking.
The Cook Honors College may be exactly where you belong. Contact us with questions or visit to find out.
Learn about applying to the Cook Honors College.
Support IUP Cook Honors College Students
Your gift empowers the next generation of leaders. You'll find them here—studying, writing, debating both sides, reading in a hammock in the Oak Grove for core, making pancakes for their fellow students, and planning what they'll do next. Your support gives these brilliant young minds the resources they need to pay for college and opens doors to transformative opportunities they would otherwise not have. As they say in core, "What, therefore, should we do?"
*Average enrollment in an honors college is around 1,400 students according to a 2017 article in U.S. News & World Report. Our enrollment is about 400.