Student Life and Activities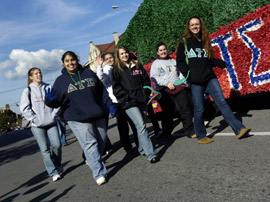 Getting involved in campus activities can help students to develop lasting friendships, make career connections, and keep a healthy balance between their schoolwork and personal lives.
Students will find plenty to do at IUP:
Concerts, theater productions, lectures, volunteer opportunities, and more can keep students busy outside the classroom.
Students can choose from more than two hundred clubs and organizations.

Athletics and Fitness

Varsity sports, intramurals, and club sports are in abundance.

Religious Groups

Resources are available to help students explore and fulfill their spiritual needs.
Find out what's happening on campus.
Find resources to assist students with living in Indiana, Pa.
Information to help you understand your child's transition to college life
This park-like setting is at the heart of campus. Get a live look through the GroveCam.
Take a look at IUP's student-run newspaper.
Shop here for IUP apparel, gifts, textbooks, school supplies, and more.
Get the story behind some of our highest achievers.