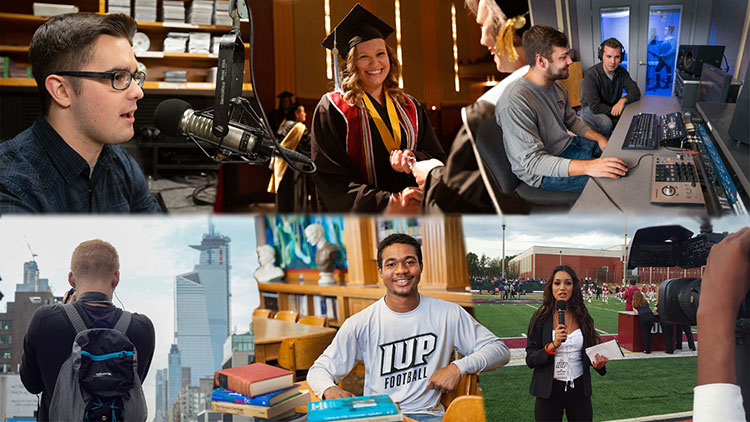 Engage the World Persuasively, Effectively, and Memorably
Your career in communications media is an exercise in global outreach and sharing. Great products, services, and information rarely find a hungry audience without storytelling and evocative imagery. The communications field will grow with each technological breakthrough.
Master all aspects of communications media, including the design, production, and evaluation of media messages.
Complete a nine-credit internship as a stepping stone to your first job.
Immerse yourself in media writing, production, promotion, and marketing.
Enjoy electives your adviser will help you choose so your time at IUP is as productive as possible.
Enrich your perspective by fulfilling IUP's Liberal Studies Program. These courses are the bedrock of an effective communications professional.
Choose your track: Media Marketing, Media Studies, Media Production, or News Media.

Students who are not communications media majors can add to their skills with our 18-credit minor.

Develop advanced production skills in radio, audio, and digital recording.

Increase your marketability with knowledge of photography and image manipulation.

This interdisciplinary certificate with IUP's Department of Music includes music and audio production courses.

Students intern at radio and TV stations, media network headquarters, production companies, hospitals and health systems, graphic design firms, promotion agencies, and corporate training departments. Gain course credit and real-world experience.

Collaborate with professors on projects, such as the production of brochures, promotional videos, and computerized training modules.