Undergraduate Programs in Communications Media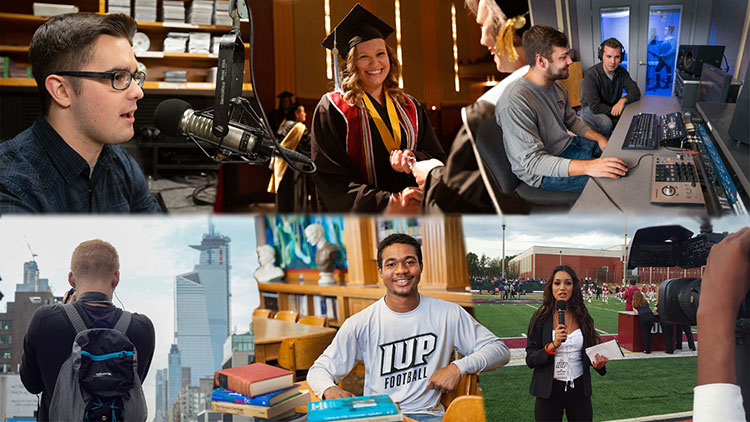 Gain Expertise in Media Production, Writing, Promotion
When you major in communications media at IUP, you get a hands-on education that combines media theory with application and production. As media programming converges on the internet the need for producers of online content in audio, photography, video, and communication graphics explodes.
Your writing, speaking, and production skills can be part of the communications media revolution.
Organizations need skilled employees who can design messages and reach audiences through traditional and new media. In today's world, it is not enough to be able to do just one thing. Your IUP communications media degree can help you build the essential skills you need to be competitive on the job market.
Why Communications Media?
Communication is the key to success in every organization. As new technologies and aesthetic theories are born, there is high demand for people like you who understand how to manage and complete a project and communicate with clients, audiences and co-workers.
You'll be in demand if you can write, develop, and manage creative projects, produce video and write TV and radio scripts, write and edit news broadcasts, design media ads and corporate images, present training and instructional workshops, and create marketing and promotions plans. Employers in media organizations, corporate communications, health care, nonprofit organizations, training, and instructional design will all need your strong communication skills.
With IUP Listed in the Princeton Review "Best 385 Colleges," our Communications Media program was recognized in the IUP profile. "Special praise is reserved for IUP's fantastic' communications media program in which students have access to a full-fledgedradio station (WIUP-FM), television studio (IUP-TV), two photography studios, a print studio, a full audio lab. and a huge center dedicated for media production and research (CMPR). Beyond amazing facilities, undergrads have the privilege of learning from great,' knowledgeable' professors."
Couple this with another Princeton Review of the Top 10 College Majors ranking communications as the number two major, and you can enroll in a top-ranked program at a top-ranked university.
Hands-on Labs and Studios
Whatever path you choose-writer, producer, editor, presenter, designer, you'll work with other students and award-winning professors in our studios and labs.
The IUP Difference
Unique Curriculum. There are many communications schools, but IUP is one of the few that provides a broad media-based program. You can do all this in one department with a choice of three tracksMedia Marketing, Media Studies, or Media Production.
Audio Production
Scriptwriting and Multimedia News Writing
Video Production
Media Promotion and Event Planning
Radio Production
Graphics and Multimedia
Media Marketing and Sales
Photography
Animation and Game Design
Communication Consulting
Organizational Communication
Media Regulation and Media Management
You will use your writing and production projects to build a portfolio that shows employers what you can do for them.
Internships: Our network of IUP communications media alumni and internshipsites is so vast you can land an internship at regional and national media outlets, major corporations, non-profit organizations, and start-up industries. You can intern close to home or in major media, entertainment, and corporate hubs, including Pittsburgh, Philadelphia, Washington, D.C., New York, and Los Angeles.