Rich Lansberry `09
Finance Major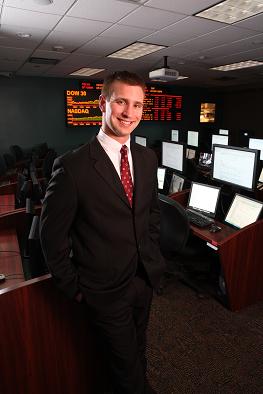 "Keep your family close, but don't let it hold you back."

Growing up in a rural setting and graduating high school in a class size of only 134, I wasn't ready to attend a post-secondary school in an urban setting. I had a strong family push to attend IUP, but I wasn't enthused about it because I wanted to make my own decision and be my own persona typical eighteen-year-old mindset. I visited IUP in April 2005 in an attempt to get a feel for the campus; I was quickly captivated with all of the beautiful scenery IUP had to offer, the friendliness of its people, and the Indiana area in general.

I've spent all of my life with my parents and younger brother, Devin. I told him that college will be the best years of his life as he knows it. It certainly has been for me. I can remember when he and my parents came to visit me during my freshman year in Lawrence Hall, and by simply sitting in a chair in our residence hall room he said, "I can't wait until I go to college."

In my opinion, IUP has fulfilled everything I wanted from a university. I could not ask for anything more, and I am certainly not willing to let go of experiences that I have gained from attendance here. Whether it was an academic, professional, or social experience at IUP, I have memories that will last a lifetime and friends I'll never forget.

I've had the privilege of taking leadership roles in multiple professional and service-based organizations in IUP's Eberly College of Business, being a founding father of a nationally recognized social fraternity, representing a team of IUP students in a Chartered Financial Analyst Investment Research Competition in Pittsburgh, Pa., and eating dinner with the multiple CEOs of nationally recognized financial institutions. There are many other accomplishments and opportunities over the course of four years that are too lengthy to list.

The professors are first rate at IUP, and most serve as outstanding mentors to those who approach them.

Looking back, I'd do it all over again.

Rich is currently an Assistant National Bank Examiner for the Office of the Comptroller of the Currency (OCC) in Philadelphia, Pennsylvania (as of Fall 2013).