Meghan McCarthy '10
Marketing Major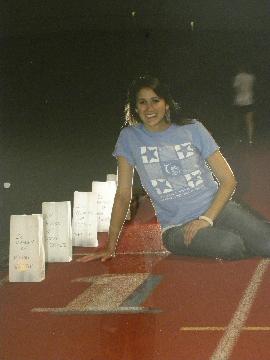 "Eberly has offered me not only an academic forum for learning, but has provided me access to the tools, the Wall Street Journal, computers, and other technologies necessary for success in today's fast-paced business worldand the people, my peers, professors, professionals, and even Dean Camp, have helped make it possible for me to reach success. IUP offers excellent honors education at RECHC and a dynamic and professionally engaging business program. I would recommend these programs for anyone looking to be academically challenged and professionally prepared for the dynamic business world today.

"My name is Meghan McCarthy. I am a senior pursuing a Marketing degree at the Eberly College of Business and Information Technology. With a minor in Journalism and a concentration in public relations, I hope to make a career doing public relations-related special events and marketing. A member of the Robert E. Cook Honors College and actively engaged on campus, I am the secretary of the IUP chapter of Phi Beta Lambda and a member of Phi Eta Sigma Honors Society. In addition to studying and participating in clubs, I also work as the student coordinator for the Six O'Clock Series, a campuswide weekly lecture series.

"Often described by others as ambitious, organized, upbeat, and friendly, I have made it my goal to take advantage of opportunities within RECHC and Eberly. I went to Italy as a sophomore in the Spring of 2008 for my Senior Synthesis course. In addition, I have taken advantage of the quality of Eberly's AACSB-accredited business program. I enjoy having the opportunity to work closely with an intimate group of peers in Eberly, and have made an effort to get to know several professors, many with whom I have had class. I know that the dedication of these professors and the individual attention and recommendations they gave me enabled me to successfully complete two internships prior to the Fall of my senior year. My first internship was with Lifesteps, Inc. in Indiana, Pa., and the second with the National Hispanic Medical Association in Washington, D.C.

"Eberly's state-of-the-art facilities and dedication to professional developmentare not only evident in the classroom, but also in the opportunities offered by the local community in conjunction with Eberly programs, like the PNC Roundtable and the IUP Small Business Institute (SBI). This year, I am working with two of my peers as an SBI consult on a professional business project that will be presented to a local business in December."

Meghan currently lives in Madison, Wisc., and works for Codeworks, Inc. as a project manager (as of Spring 2014).