Clarissa Wilson '09
Accounting Major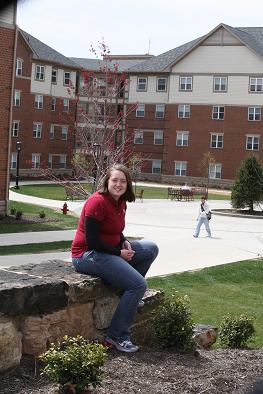 "My education at IUP was one that I feel has really benefited me and helped prepare me more for the future. I have learned so much from so many different people through my education and experience at IUP that will definitely help me out as I grow and experience new things in life and become a successful businesswoman."
I grew up in northeastern Pennsylvania on a dairy farm. Growing up on a dairy farm was one of the most rewarding, yet hardest experiences I have had to live with. It posed many difficulties, but I also learned a lot from the experience that has helped me in many other situations and will still continue to help me as I grow older.
I attended Elk Lake School for thirteen years, where I played basketball from second grade through eleventh grade, as well as played on the girls' varsity soccer team in my junior and senior years. I was also a member of the National Honor Society, FBLA, and the Prom Steering Committee. I graduated from Elk Lake in June 2005 with high honors.
I then attended Indiana University of Pennsylvania with a major in Accounting and a concentration in the Eberly College of Business Honors Program. I was a member of the inaugural class of the Business Honors Program. During my college career, I was a member of the Student Accounting Association, where I was the chairperson for the Recognition Dinner for two years, as well as a community assistant for three of my four years. I was also able to travel to Bangalore, India, to compete in a Scholastic Business Competition, where IUP placed second overall out of more than eighty-five teams of students, and my partner and I placed seventh in our competition. I graduated from IUP magna cum laude with a Bachelor's Degree in Accounting in May 2009.
Upon graduation, I began in a job in June 2009 with Robert Rossi & Co. as an accountant with a goal of taking and passing the CPA exam within six months.