Laura Robinette `09
Marketing Major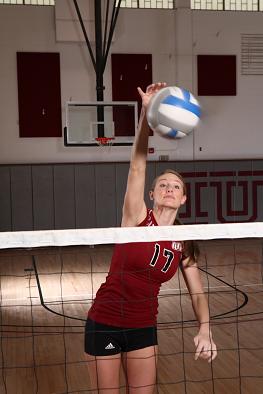 "Eberly College of Business and Information Technology consists of a very unique educational atmosphere that I believe I would not have gained through any other university. There is a special bond between the faculty and a student that not only assists with better learning, but inspires you as an individual to achieve and learn more than you had anticipated."

My name is Laura Robinette and I am an IUP alumni. I am originally from Commerce, Mich., and due to the various opportunities that IUP offers, I decided to pursue my educational experience, as well as continue my athletic career in volleyball, at this university.

As a student, I became greatly involved at the university and began to participate in a variety of activities. While committing to the IUP athletic volleyball team, I also became a member of the Student Athletic Advisory Committee (2006-2007). In addition, I was involved with the Student Cooperative Association as a finance committee member (2007-2008), and participated on the Board of Directors (2007-2009).

I had the opportunity to participate in a great amount of community service as well, which has inspired me in many ways and helped me realize the importance of giving back to the community. As a student athlete, I learned many valuable lessons that have contributed to my overall accomplishments at IUP and will continue to guide and support my future successes.

I graduated with a Bachelor of Science degree in Marketing, with the recognition of Summa Cum Laude. By having great determination and inspiration, I was able to achieve all of this within three years of my education career. I am very proud and honored to be recognized by Indiana University of Pennsylvania and the Eberly College of Business and Information Technology, where opportunities guided my success and achievements beyond my expectations.

Laura is currently an Account/Market Manager at Active Network in San Diego, California (as of Fall 2013).