Hillary Shope '10
Accounting Major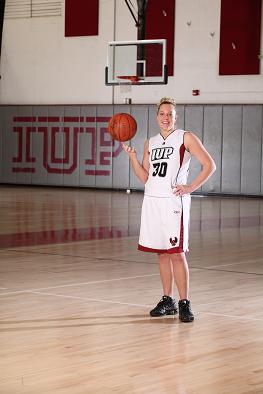 "IUP has provided me with a great education and has helped prepare me for my future. The Eberly College of Business has given me the opportunity to excel in the classroom and the chance to participate in many extracurricular activities. I already have a job after I graduate, and I believe my IUP education has a great deal to do with that."
I grew up in the small town of Saltillo, which is located in south-central Pennsylvania. I began playing basketball when I was in fifth grade, and have played ever since. I scored over 1,000 points in my high school career, and graduated from Southern Huntingdon County High School with highest honors.
I visited IUP in March of my senior year. I came to campus on a basketball visit, but found the ECOBIT to be quite impressive. The building and technology itself were remarkable and made quite the impression on me. I got to sit in on a class with one of the basketball players because she was an Accounting major, and I knew that is what I wanted to major in. I also got to meet Dean Camp, and he informed me that ECOBIT was AACSB accredited, which is quite an honor. This is one of the main reasons I choose to attend IUP, because I knew I would be receiving a quality education while participating in a Division II sport.
While I have been at IUP, I have been a four-year letter winner on the women's basketball team, and also a three-year captain. Our team is a three-time defending PSAC champion, which is an extraordinary feat. I am a member of the Student Accounting Association, the Student Athlete Advisory Committee, and the IUP Student Co-op Board of Directors. I was also recently inducted into the Beta Gamma Sigma National Business Honor Society.
I will graduate in May 2010 with a Bachelor's Degree in Accounting. I will begin my job as a staff accountant with Boyer & Ritter Co. in July 2010.