Joe Pelland `10
Accounting Major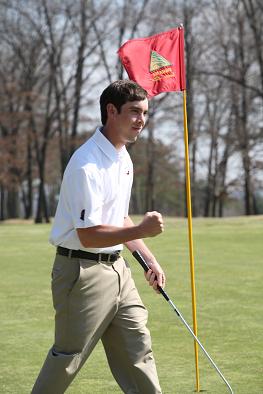 "The Eberly College of Business and Information Technology provided me with the tools needed to become a successful student and, soon to be a businessman. Through the service projects, student organizations, job fairs, speakers, areas of study, faculty, and students, the Eberly College of Business is able to accommodate nearly any student's needs and aspirations."

I was born in Columbus, Ohio, where I lived through high school. I first played golf when I was six, and have been playing ever since. I attended St. Charles Preparatory High School in Columbus, where I ran track as an underclassman and played varsity golf for four years. I decided to attend IUP after I visited the campus late in my senior year. I came to learn about the university's golf program, but I was impressed with the welcome I got from the Eberly College of Businesseven Dean Camp made time to talk with me about the business college. Shortly after my visit, I made the decision to attend IUP as a Business major at ECOBIT.

I entered IUP as an Accounting major, but have also been active in various on-campus student organizations. In addition to playing on the IUP golf team, I am serving concurrent terms as president of the Student Accounting Association and treasurer of the College of Business Student Advisory Council, while also undertaking the Eberly Business Honors Program curriculum. I am also active in the IUP Chapter of Habitat for Humanity, the annual IUP Common Freshman Reader Table Talks, and the Robert E. Cook Honors College. I have had many fantastic experiences here at IUP, and have had many doors opened to me because of my participation in the many activities offered by the Eberly College of Business and Information Technology.

Joe is currently a Sr. Financial Analyst at Flagstone Foods in Saint Paul, Minnesota (as of Fall 2013).