Nicole Marie Carney '09
International Business and Spanish Major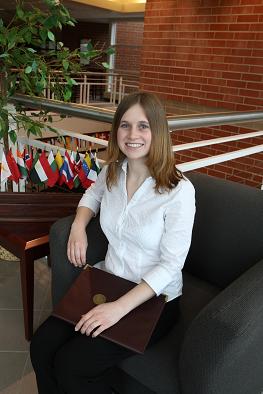 "Eberly affords its students many opportunities to expand their knowledge and gives them the chance to participate in organizations and become leaders. With many professors who have real-world business experience, it was the perfect place to learn and grow and to achieve my academic goals, and I would recommend it to anyone wishing to pursue higher education in the field of business."

Nicole was born in Johnstown, Pa., on April 10, 1986, and attended school in the Westmont Hilltop School District. She actively participated in clubs throughout high school and was a leader in SADD, World Language Club, and Key Club. She graduated from Westmont in 2004, and decided to go to IUP that fall. During the Spring 2007 semester, she studied abroad in Valladolid, Spain. She worked throughout most of her college career in Eberlytwo years as Dr. Abbas Ali's assistant and one year as a student worker in the dean's office.

Nicole filled several leadership roles while attending IUP. She was secretary of Students in Free Enterprise during the Fall 2005 semester and vice president of Sigma Delta Pi and secretary of International Business Association during the 2008-2009 Academic Year. She graduated from IUP with a B.S. in International Business with a concentration in Marketing, a B.A. in Spanish, and a minor in Applied Statistics. Her cumulative GPA was 3.97, and she had a 4.0 in Business.

Her favorite hobbies include playing tennis and volleyball, scrapbooking, and going to the movies. She is currently seeking employment and would like to either remain in Pennsylvania to begin her career or move to the Midwest, but she is flexible and willing to relocate elsewhere.

Mrs. Nicole Nowicki currently works in Chicago, Illinois, as a client support specialist for PayLink Payment Plans (as of fall 2013).