Andrew John Antolik '10
As of December 2020:
Bureau Chief of Fleet and Maintenance
City of Erie, PA
Management Major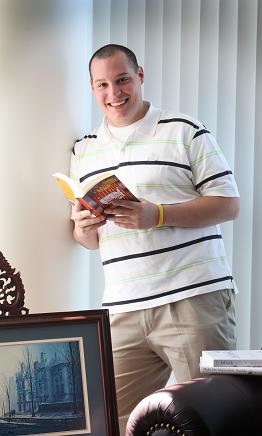 "The most exciting part of college for me is meeting new people and learning through education and different experiences. I'm ready to graduate and use the knowledge that I learned through school to pursue my career."
My name is Andrew John Antolik, but most people call me AJ. I was born in Erie, Pa., and went to the Collegiate Academy for high school. I chose IUP because of its strong business program and the honors program. I am entering my senior year of college, and am very excited for what lies ahead. This fall, the Senior Honors Cohort will be taking a trip to India to compete in the MANage Business competition. I am very thrilled about this opportunity and think it will be an unforgettable experience. The Eberly College of Business Honors Program has been a great opportunity. Here I was able to meet friends that I will know for a lifetime and study in a great environment. The program has helped me become the hardworking student that I am today and has prepared me well for the business world.
This summer I participated in an internship through the mayor's office in the city of Erie. I gained an immense amount of knowledge through hands-on managing. I worked with the planning of different events, like ABC's Extreme Makeover Home Edition and CelebrateErie. These experiences were not only insightful, but ones that I will remember for the rest of my life.
Aside from school, I am an avid sports fan. My favorite teams are the Cleveland Browns, Cleveland Indians, and Boston Celtics. I played baseball and basketball in high school, and I was a member of student government. I was on the newspaper staff, and did the morning announcements on the school's closed circuit television. I also like to hang out with my friends and spend time with my family.
My family is very important to me. They are always there to support me, and I appreciate everything that my parents, Tim and Shelly, do for me. They are always willing to listen to me and offer advice. My sister, Emily, just graduated from high school and is off to college as well. She is my best friend, who I can always count on.