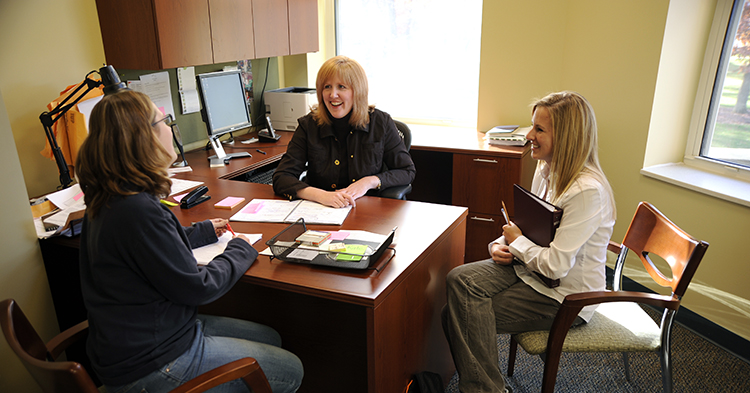 Reduce the time it takes to earn your master's degree! Our Early Admission Program is designed for IUP undergraduate students who want to continue their studies in a graduate program at the university.
In our Early Admission Program, you can begin to earn your master's while still working toward your bachelor's degree. If you have a 3.0 GPA or higher and have earned at least 15 credits in your major, you can apply during the semester in which you will earn your sixtieth credit. 
Once accepted into your master's program of choice, you can use up to 40 percent of your graduate classes to satisfy the requirements of your undergraduate degree. In short, applying to early admission allows your graduate classes to count double, reducing the time it takes to earn both your bachelor's and master's degree. Visit IUP's Graduate Catalog, University Policies for the complete Early Admission to Graduate Program Policy.
Graduate Programs Eligible for Early Admission
The following graduate programs are currently accepting early admission applications from qualifying IUP students:
MA in Applied Archaeology
MS in Applied Mathematics
MS in Biology
Master of Business Administration (MBA)
MEd in Business/Workforce Development
MA in Criminology
MA in English, Composition and Literature
MA in English, Literature
MS in Food and Nutrition
MS in Geography
MEd in Health and Physical Education
MS in Health Services Administration
MA in Human Resources and Employment Relations
MA in Education, Training, and Instructional Technology
MEd in Literacy
MEd in Mathematics Education 
MA in Music Performance
MS in Nursing
MA in Public Affairs
MS in Safety Sciences
MS in Speech-Language Pathology
MA in Sociology
MEd in Special Education
MS in Sport Science
MS in Strategic Communication 
MA TESOL
If You Are Interested in Early Admission
Before applying for early admission, please contact the graduate coordinator of your program of interest to discuss eligibility.
Visit the IUP Graduate Admissions pages to review our graduate application requirements, as well as additional items required by some programs.
How to Apply for Early Admission
Select Apply Online to complete the online graduate school application (please use promo code GFM to waive the $50 application fee).
Select Graduate as the Academic Level.
Under Academic Plan, for the Term you wish to start, select the term which falls immediately after your undergraduate graduation date. For example, if you graduate in May 2020, you would apply for the summer or fall 2020 term.
In the Additional section of the online application, please select that you are "currently an IUP undergraduate student," "interested in pursuing graduate courses as an undergraduate student," and select Graduate Early Admission as the Early Admit Type. Then, select the first term during which you plan to begin taking graduate classes.
You will then upload all of your supporting documentation on your IUP Admissions Profile.  

Once all supplemental items are received, the completed applications will be sent to the graduate program coordinator/committee for a final graduate admission decision.
Admitted for Early Admission, Now What?
Work with your undergraduate and graduate advisors in order to map your course sequence.
Your undergraduate advisor will provide the overrides needed to register for your graduate coursework.
Financial Aid
If you are currently receiving financial aid, applying for early admission may affect your aid. Please contact the Office of Financial Aid to discuss the potential impact during the fourth/final year of undergraduate study, the time during which you would be taking both undergraduate and graduate-level coursework simultaneously. Email financial-aid@iup.edu, or call 724-357-2218.