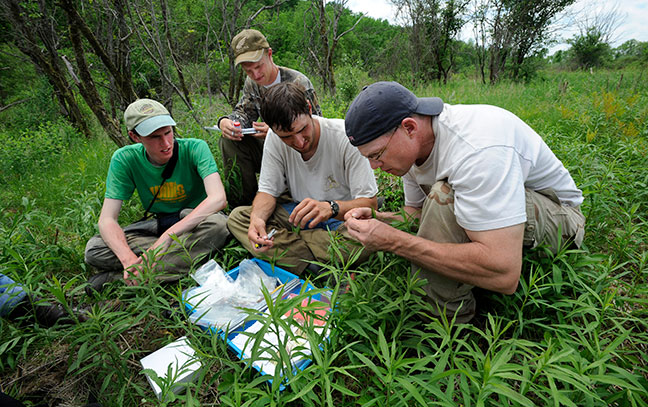 Advance Your Biology Expertise
Building up your biology expertise in a master's program gives you the competitive edge to earn your PhD or land a coveted job. IUP's MS in Biology degree program gives you the skills and background to work within this professional environment.
The MS in Biology degree is a two-year program that strengthens your core knowledge and allows you to explore advanced topics in your chosen field. Students have two options for completing their MS in Biology degree:
Thesis: If you're planning to continue working in research or pursue a PhD, a thesis is the best option for you. You'll work closely with a faculty research advisor to complete an in-depth and independent research project. You'll also have the opportunity to get teaching experience.
Non-thesis: If you're looking into non-research career you may consider a non-thesis option. This option combines additional course work with a less intensive research experience. In a non-thesis setting, you can expect to pursue advanced topics in biology, gain hands-on research experience, become an independent scientist, and gain teaching experience.
Get Your Master's in One Year with Early Admission
Undergraduate biology students at IUP can take advantage of our Early Admission track (Accelerated MS) that speeds up your graduate studies. Students must have a minimum 3.0 GPA and strong letters of recommendation.
Students in the Early Admission track must first select a faculty mentor, identify a research project (for thesis track), and apply for the program during their junior year. Students start taking courses that count towards both the BS and MS degrees in their senior year of their BS degree—earning at the same time one year of MS requirements while completing the BS degree. Early Admission students can select the thesis or non-thesis track.
Imagine Your Future
IUP's Master's degree in Biology is an excellent idea for students interested in researching, conducting lab and field work, or teaching in higher education. Many IUP biology students go on to acquire a PhD and find employment as:
Field scientists in academic and government agencies
Independent researchers
Professors at colleges and universities
Research technicians and lab managers in academic labs, industry, or hospitals
35% of MS in Biology graduates admitted into PhD programs. Some examples include:
Clemson University
Cornell University
Kansas University
Southern Illinois University
SUNY-Syracuse
U. Buffalo
University of Illinois
University of Kentucky
University of Notre Dame
University of Tulsa
University of Virginia
60% of MS in Biology graduates gained employment in their field. Some examples include:
Conemaugh Valley Conservancy
Cornell University
Harvard-Wyss Institute
Interspace Diagnostics
Pacific States Marine Fisheries Commission
Penn State University
Pennsylvania Department of Conservation and Natural Resources
v
Classes and Requirements
Thesis track students are encouraged to identify a research mentor before the first semester begins but, if needed, you can also do this once you've arrived. In your first year, you'll take courses in experimental design, professional development, and courses related to your interest. Thesis track students will begin working on their thesis research with the help of their faculty mentors.
In your second year, you'll take classes and continue performing research. Thesis track students will enroll in Thesis Research (6 credits) while non-thesis students will enroll in an Independent Study (3 credits).
Full Academic Catalog Listing
The course catalog is the official reference for all our degree and course offerings. Check it out for a full listing of the classes available and requirements for this degree.
Research Opportunities
The majority of our faculty members conduct lab and/or field research, while also helping graduate student research projects.
Across IUP's faculty members there are a diverse set of options for research, so you'll have access to a variety of enriching topics. Research in our department includes:
Behavior and neurophysiology of songbirds
Circadian rhythm and addiction
Circadian rhythm in mice and planaria
Conservation of freshwater ecosystems
Conservation of threatened and endangered species
Eco-evolutionary responses of organisms
Ecology of insects and ticks
Evolutionary biology of dinosaurs
Forest management and restoration
Impact of science experiences on student engagement
Invasive plant impact on insect populations
Kidney development and regeneration
Neotropical amphibians and reptiles
Origins and early evolution of mammals
Plant-microbe interactions and fungal genetics
Population dynamics and community ecology
Songbird ecology and conservation
Tissue regeneration in planaria
Student Resources
Biology students have access to IUP's generous student resources to support their studies and improve their experiences on and off campus.
Animal facility housing zebrafish, zebra finch, and mice
Gel docs
Graduate Student Society
Herbarium
NanoDrop
Real-time PCR
Research funding
State-of-the-art microscope facility funded by NSF
Student scholarships
Writing center
Nearby Research Resources
IUP is well located to access rural and natural areas across Pennsylvania.
University Facilities
College Farm
College Lodge
South Woods
State and County Properties
Blue Spruce County Park
Crooked Creek Environmental Learning Center (Army Core of Engineers Nature Preserve)
Yellow Creek State Park
National Parks and Properties
Allegheny National Forest
Flight 93 Memorial