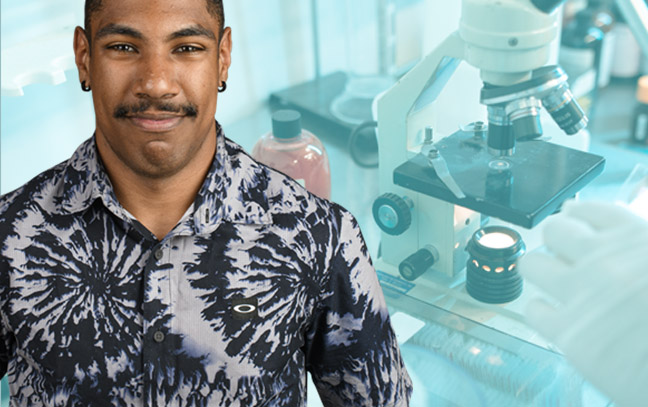 Advance Your Biology Expertise
Building up your biology expertise in a master's program gives you the competitive edge to earn your PhD or land a coveted job. IUP's MS in Biology degree program gives you the skills and background to work within this professional environment.
The MS in Biology degree is a two-year program that strengthens your core knowledge and allows you to explore advanced topics in your chosen field. Students have two options for completing their MS in Biology degree:
Thesis: If you're planning to continue working in research or pursue a PhD, a thesis is the best option for you. You'll work closely with a faculty research advisor to complete an in-depth and independent research project. You'll also have the opportunity to get teaching experience.
Non-thesis: If you're looking into non-research career you may consider a non-thesis option. This option combines additional course work with a less intensive research experience. In a non-thesis setting, you can expect to pursue advanced topics in biology, gain hands-on research experience, become an independent scientist, and gain teaching experience.
Get Your Master's in One Year with Early Admission
Undergraduate biology students at IUP can take advantage of our Early Admission track (Accelerated MS) that speeds up your graduate studies. Students must have a minimum 3.0 GPA and strong letters of recommendation.
Students in the Early Admission track must first select a faculty mentor, identify a research project (for thesis track), and apply for the program during their junior year. Students start taking courses that count towards both the BS and MS degrees in their senior year of their BS degree—earning at the same time one year of MS requirements while completing the BS degree. Early Admission students can select the thesis or non-thesis track.
Imagine Your Future
IUP's Master's degree in Biology is an excellent idea for students interested in researching, conducting lab and field work, or teaching in higher education. Many IUP biology students go on to acquire a PhD and find employment as:
Field scientists in academic and government agencies
Independent researchers
Professors at colleges and universities
Research technicians and lab managers in academic labs, industry, or hospitals
35% of MS in Biology graduates admitted into PhD programs. Some examples include:
Clemson University
Cornell University
Kansas University
Southern Illinois University
SUNY-Syracuse
U. Buffalo
University of Illinois
University of Kentucky
University of Notre Dame
University of Tulsa
University of Virginia
60% of MS in Biology graduates gained employment in their field. Some examples include:
Conemaugh Valley Conservancy
Cornell University
Harvard-Wyss Institute
Interspace Diagnostics
Pacific States Marine Fisheries Commission
Penn State University
Pennsylvania Department of Conservation and Natural Resources
v
Classes and Requirements
Thesis track students are encouraged to identify a research mentor before the first semester begins but, if needed, you can also do this once you've arrived. In your first year, you'll take courses in experimental design, professional development, and courses related to your interest. Thesis track students will begin working on their thesis research with the help of their faculty mentors.
In your second year, you'll take classes and continue performing research. Thesis track students will enroll in Thesis Research (6 credits) while non-thesis students will enroll in an Independent Study (3 credits).
Cooperative Programs
Graduate students in biology can enroll in summer courses at the Pymatuning Laboratory of Ecology, University of Pittsburgh's Field Station in northwestern Pennsylvania.
These elective courses emphasize organismal and ecological topics and vary from year to year. IUP also maintains agreements with Adam Mickiewicz University in Poznan, Poland, and with the University of Ghana, Legon, and the University of Science and Technology, Kumasi, Ghana. Students may spend a semester enrolled in courses at any of these universities. Also, it is possible to coordinate the graduate program in biology with the teacher certification process in the College of Education and Communications at IUP. Anyone interested in teacher certification should review the relevant material in the undergraduate catalog. Eligibility for the certification process is independent of the admission and review of progress in the biology M. S. program.
Full Academic Catalog Listing
The course catalog is the official reference for all our degree and course offerings. Check it out for a full listing of the classes available and requirements for this degree.
Research Opportunities
The majority of our faculty members conduct lab and/or field research, while also helping graduate student research projects.
Across IUP's faculty members there are a diverse set of options for research, so you'll have access to a variety of enriching topics. Research in our department includes:
Behavior and neurophysiology of songbirds
Circadian rhythm and addiction
Circadian rhythm in mice and planaria
Conservation of freshwater ecosystems
Conservation of threatened and endangered species
Eco-evolutionary responses of organisms
Ecology of insects and ticks
Evolutionary biology of dinosaurs
Forest management and restoration
Impact of science experiences on student engagement
Invasive plant impact on insect populations
Kidney development and regeneration
Neotropical amphibians and reptiles
Origins and early evolution of mammals
Plant-microbe interactions and fungal genetics
Population dynamics and community ecology
Songbird ecology and conservation
Tissue regeneration in planaria
Student Resources
Biology students have access to IUP's generous student resources to support their studies and improve their experiences on and off campus.
Animal facility housing zebrafish, zebra finch, and mice
Gel docs
Graduate Student Society
Herbarium
NanoDrop
Real-time PCR
Research funding
State-of-the-art microscope facility funded by NSF
Student scholarships
Writing center
Nearby Research Resources
IUP is well located to access rural and natural areas across Pennsylvania.
University Facilities
College Farm
College Lodge
South Woods
State and County Properties
Blue Spruce County Park
Crooked Creek Environmental Learning Center (Army Core of Engineers Nature Preserve)
Yellow Creek State Park
National Parks and Properties
Allegheny National Forest
Flight 93 Memorial
Student Opportunities
IUP Biology Club
As a member of the Biology Club, you'll have the opportunity to share your experience and knowledge by mentoring undergraduates
Beta Beta Beta (TriBeta) is a membership that will serve you throughout your academic and professional careers in biology.
The Ecological Society of America is an engaging group that provides field experiences in the area of ecology. You will join a versatile group of ecologists and other students who are dedicated to raising public awareness of ecological science.
The American Medical Student Association provides monthly meetings where students make presentations about their internship experiences. Guest speakers also enhance the meetings.
Pymatuning Laboratory of Ecology
Biology majors can expand their selection of course offerings by participating in a cooperative program with the University of Pittsburgh's field station at the Pymatuning Laboratory of Ecology, located in northwestern Pennsylvania.
Special Biology Summer Course to Africa
The Department of Biology at IUP offers both undergraduate and graduate courses in Southern Africa during the summer.
Osteopathic Medicine Early Acceptance Programs
IUP has "Early Acceptance" agreements with both Philadelphia College of Osteopathic Medicine and Lake Erie College of Osteopathic Medicine.
Medical College-IUP Physician Shortage Area Program
IUP has established a cooperative family medicine physician education program with Jefferson Medical College of Thomas Jefferson University in Philadelphia for the purpose of improving the distribution of physicians in Pennsylvania.
Awards
Several awards help support Biology students and their research efforts.
Collaborate with, Learn from Internationally Respected Faculty
More than 30 biology faculty members always look out for those students with a will to succeed. Real-world connections and field research experience is a boon to graduates seeking employment or acceptance to a medical school. Most have earned a PhD, and many remain active in field research or are widely published.
Our professors attract many foreign students who bring an international perspective to graduate studies.
Research assistantships with renowned professors provides unique mentoring for qualified students.
You can learn how funds to support scientific endeavors are won from experienced professors who understand the particulars of grant writing for research.
Our evolving faculty continues to grow and draw on the most relevant and sensitive developments in the field of biology.
Students must possess a bachelor's degree (BA or BS) from an accredited college or university. The degree should include a major in biology or a branch of biology, one year of inorganic chemistry, one semester of organic chemistry, and one semester of calculus or statistics. Applicants with undergraduate deficiencies may be required to register for appropriate courses. The applicant's grade point average must be at least 2.6, or submit a Miller Analogies Test score greater than 47. Keep in mind that these are the minimum scores to be eligible to apply. The Graduate Records Exam (GRE) is not required for admission, but scores may be considered by the graduate committee during the review of applications.
International applicants must take either the Test of English as a Foreign Language (TOEFL) and receive a score greater than 500 on the paper-based test (PBT), 173 on the computer-based test (CBT), or 80 on the internet-based test (iBT), or take the International English Language Testing System (IELTS) exam and score 6.5 or greater. Keep in mind that these are the minimum scores to be eligible to apply, and students are expected to have a strong proficiency in both spoken and written English.
The deadline to submit your application with full consideration for the upcoming academic year is March 1. Applications received after this date may still be considered for the upcoming academic year on a case-by-case basis or may be deferred to the next academic year. Applications for admission during the spring semester will be reviewed on a case-by-case basis, with spring admissions made only in specific circumstances.
More information on Graduate Admissions.
For more information regarding Admission Classification and Provisional Admission for International Graduate Application, view the Graduate Catalog.
A very limited number of graduate assistantships are selectively awarded to highly qualified graduate students, often on the basis of academic excellence and progress towards establishing a research topic with an advisor prior to starting coursework. Full-time students can be eligible for 20-hour or 10-hour per week GAs. For more information, visit Graduate Assistantships at IUP.

For more information about loans, the Federal Work Study program, and other financial aid, visit the Office of Financial Aid.