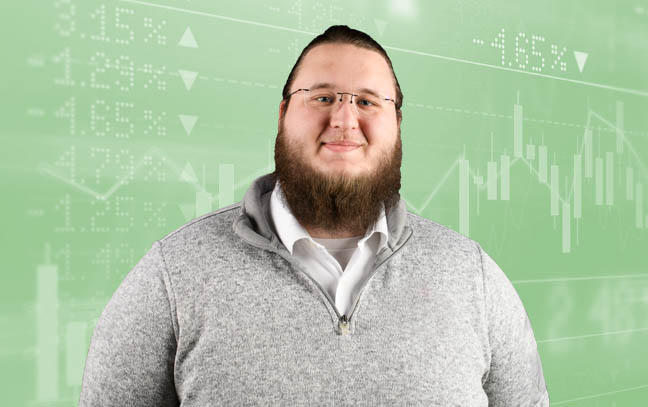 Open New Doors with an MBA
Level up your career—or take it in an entirely new direction—with a master's in business administration from IUP.
Virtual Information Session
Tuesday, November 14
6:00–7:00 p.m. Eastern Standard Time
Status: Space available
Location: Online
You'll build your business acumen and gain the skills you need to succeed in a complex, rapidly changing world. Plus, an MBA can open new doors and significantly enhance your career opportunities, no matter your undergraduate degree. And when it comes to your future, the numbers don't lie: Graduates with MBAs frequently receive between 30- and 50-percent higher salaries than those with just a BS or BA (US Bureau of Labor Statistics).
What Will You Learn?
MBA coursework gives you the space to develop the diverse knowledge, management skills, and leadership abilities sought by organizations around the world.
Expand your understanding of finance, economics, accounting, and supply chain management
Dig into human resource management, organizational leadership, and marketing
Develop your critical and strategic thinking skills
Enhance your credentials—or chart a new course—by adding a specialization in areas including:
Finance
Human Resource Management
Information systems
International Business
Marketing
Professional Accountancy
Supply Chain Management
Why Earn Your MBA at IUP?
Recognized Quality
As an AACSB-accredited MBA program, IUP is recognized worldwide by top employers—many of whom only recruit from AACSB-accredited programs.
Flexible Scheduling
Start the master's of business administration program in the fall or spring. Study full-time on campus and complete your MBA degree in as little as one calendar year. Or, take a part-time approach that fits into your busy life. For working professionals, our evening-only classes can be attended remotely.
Early Graduate Admission
If you're an IUP undergraduate, you can begin your studies early through the IUP Early Admit graduate program.
Ideal for International Students
If you're an international student, we recommend pursuing the on-campus MBA program. You'll be eligible to apply for graduate assistantship funds and scholarships.
Imagine Your Future
Earn your MBA and enjoy a challenging career in a variety of industries.
More than 90 percent of businesses in a wide range of industries—accounting, consulting, finance, health care and pharmaceuticals, products and services, and technology—hire MBA graduates. Whether for-profit or not-for-profit, public or private, large multi-national or small to midsized organizations, every business needs the skills and leadership qualities of an MBA graduate.
You'll increase your earning potential by as much as 50 percent and enhance your career opportunities over just a BA or BS degree (US Bureau of Labor Statistics, US News & World Report).
Demand for MBA graduates is predicted to increase over the next five years, giving you not just opportunities, but options (GMAC).
Classes and Requirements
Our traditional MBA program requires the completion of 30 credits (nine required courses and one elective).
Optionally, add a concentration for your MBA (36 credits total) for a distinction that stands out. Choose from areas such as professional accountancy, information systems, finance, human resource management, international business, marketing, or supply chain management.
Full Academic Catalog Listing
The course catalog is the official reference for all our degree and course offerings. Check it out for a full listing of the classes available and requirements for this degree.