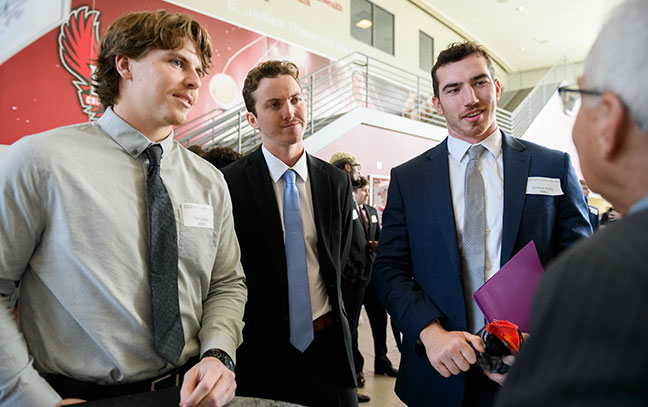 Develop the Skills You Need to Activate Your Future
Build your business acumen and complete your MBA degree in as little as one calendar year at IUP. You can study full-time or take a part-time approach that fits well into your busy life, with evening-only classes.
We offer plenty of flexibility: you can start our MBA program in the fall or spring, and undergraduate students can even begin their graduate studies as seniors and earn their MBA in just two additional semesters.
IUP's MBA program is also incredibly economical. Scholarships and graduate assistantship awards of up to 50 percent of tuition are available to highly qualified, full-time students.
Our Eberly College of Business building offers you a state-of-the-art facility with features such as a Bloomberg Terminal.
Ideal for International Students
The On-Campus MBA program is ideal for international students, and international students are eligible to apply for graduate assistantship funds and scholarships.
Our MBA program, taught by internationally respected professors, has drawn a globally diverse group of students.
Imagine Your Future
Compare the strength of our MBA program to our affordability: it's a return on investment that you can build your future on.
With an MBA, you can advance in a wide range of industries and economic sectors. Our graduates hold upper management positions in major corporations and consultancies around the world. Here are just some of the MBA jobs an MBA graduate may be interested in:
Advertising executive
Investment banking executive
Insurance and risk management specialist
Business manager
Operations manager
Supply chain manager
Systems analyst
Accountant
Credit analyst
Corporate communications manager
Corporate recruiter
Executive recruiter
Finance officer, manager, or analyst
Customer relations manager
Human Resources director or manager
Management analyst
Management consultant
Marketing director or manager
Marketing research analyst
PR specialist
Product manager
Classes and Requirements
Specialize Your Degree
Choose a concentration for your MBA, and your degree will gain extra value. Specialize in your current field to advance your career forward, or specialize in a different business area and take a new professional direction—with a degree that opens the door.
Select a concentration in professional accountancy, information systems, finance, human resource management, international business, marketing, or supply chain management.
Full Academic Catalog Listing
The course catalog is the official reference for all our degree and course offerings. Check it out for a full listing of the classes available and requirements for this degree.
Explore Our Business Outreach Opportunities
Our On-Campus MBA students consistently win national awards, working in teams on business case studies through the Small Business Institute in our Management Services Group. Case study projects involve local businesses such as the Jimmy Stewart Airport and Indiana Regional Medical Center.
Our business outreach centers give you opportunities to add experience in areas such as facilities planning, business research surveys, social media marketing, accounting systems, operations management, and competitive analysis—helping you move up in your field or explore a new career path.
You'll also have the opportunity to take advantage of industry visits, bringing real-world scenarios into your studies and providing opportunities for networking.
Successful MBA Grads Form a Network You Can Tap Into
We recently published a list of the top five employers hiring IUP MBA graduates: BNY Mellon, IBM, Prudential, BNP Paribus, and Ernst & Young.
Our MBA graduates have also accepted positions at renowned companies such as Accenture, Citizens Bank, Coca-Cola, Deloitte & Touche, Dow Chemical, GE, PNC Bank, Merrill Lynch, PPG, Renault, Rockwell International, Siemens, and more.
The $10-million Eberly College of Business complex was designed with student needs in mind and features a 500-seat auditorium, classrooms, and multiple labs, including the Management Information Systems Advanced Computing Lab.
The Mackey Family Charitable Trust Financial Trading Room features 44 Intel Xeon-based workstations and a data wall to provide up-to-the-minute financial information. Students also have access to a Bloomberg Terminal, one of the most powerful financial tools available. Students can gain a competitive edge through their experience with the Bloomberg Terminal and can pursue Bloomberg certification.
Changing stock prices are also continuously displayed on one wall of the comfortable Eberly lobby, a popular place for students to meet and study or enjoy lunch from the building's Eberly Caf.
Students can gain hands-on business experience through the Management Services Group. The six centers and institutes in the MSG contribute to the economic vitality of the region while offering students the chance to gain professional experience. Typically, On-Campus MBA students are more involved with these centers, which are located on or near the Indiana campus.
Campus-Based Resources in the MSG