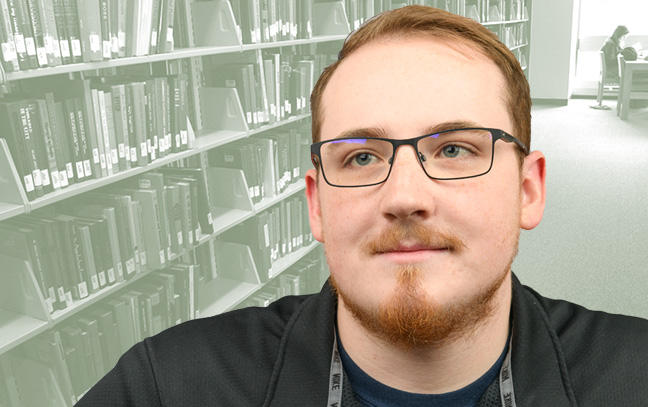 Become an Inspiring Reading Specialist
As a teacher, you know that strong reading skills are essential for opening the world of learning for each student. You also know that some students need focused support from a reading specialist. And you want to be that inspiring teacher with expertise in literacy instruction, so you can help all students become successful readers and writers.
The MEd in Literacy program at IUP will prepare you as an educator to become a reading specialist dedicated to helping kids learn to read and write well, especially students who struggle with literacy development.
In the process, you'll earn a Reading Specialist Certification.
As a reading specialist, you'll work with students, often in a school setting, to identify their competencies and limitations with literacy. Then, you'll use your literacy expertise to develop a plan to help these students acquire literacy strategies and skills. As your students progress and improve, you'll know you're making a difference in this vital role.
If you're certified in teaching, the MEd in Literacy program will ground you in three key areas:
Evidence-based instructional practices
Literacy leadership
Literacy research and theories
When you've completed the MEd in Literacy program, you'll be equipped to help children improve their reading and writing skills, gain confidence, and thrive as learners.
What You'll Learn
In the MEd in Literacy program, you'll gain advanced knowledge and training in literacy studies to become a confident, compassionate reading specialist.
You'll learn how to:
Implement evidence-based methods of literacy instruction.
Coach classroom teachers in effective literacy instruction.
Translate the latest research on literacy into your teaching practices as you work with students. 
Effectively assess students' literacy knowledge and design appropriate interventions based on assessment results.
Imagine Your Future
As a graduate of IUP's MEd in Literacy program, you'll have many opportunities to make an impact.
If you're already working as a classroom teacher, you'll be able to bring your advanced training in literacy to your students every day, across different subjects.
If you want to focus on literacy instruction exclusively, you can step into a dedicated position as a literacy specialist for a school district, helping each student become a strong reader and writer.
Classes and Requirements
At IUP, the MEd in Literacy program is sequenced carefully to mirror the academic year in your teaching position, so you can apply what you learn in real time to help the students in your classroom.
As an example, we offer a course on literacy assessment in the fall semester because this is when you will conduct initial assessments about your students' literacy development. This scheduling means you can put what you're learning about essential literacy assessments to use right away to develop the best approach for teaching your own students, based on their individual needs.
Full Academic Catalog Listing
The course catalog is the official reference for all our degree and course offerings. Check it out for a full listing of the classes available and requirements for this degree.
Resources from the Bill and Judy Scheeren Literacy Center
Whether you're pursuing a role as a reading specialist or as a literacy-trained classroom teacher, it's essential to have assessment and text materials to help you teach effectively. The Bill and Judy Scheeren Literacy Center at IUP gives you convenient access to these resources when you need them.
If you're a local student in the MEd in Literacy program, you can access the online digital catalog and request materials for checkout.
Our Faculty
Julie Ankrum
Coordinator, MEd in Literacy/Reading Specialist Certification Program
Davis Hall, Room 323
570 South Eleventh Street
Indiana, PA 15705
Phone: 724-357-2416
Fax: 724-357-2961
Julie.Ankrum@iup.edu
DeAnna Laverick
Davis Hall, Room 329
570 South Eleventh Street
Indiana, PA 15705
Phone: 724-357-2400
Fax: 724-357-2961
d.m.laverick@iup.edu
Each year, the Department of Professional Studies in Education is allocated a limited number of graduate assistantships. Assistantship awards are based on academic achievement, not financial need.
In awarding assistantships to doctoral students, first priority is given to the candidate who is most advanced and needs to complete residency, internship, or dissertation requirements. Second priority is given to those doctoral students who desire to fulfill their residency requirement through a leave of absence from their employing agency. In order to be considered for a graduate assistantship, the following requirements must be met:
Admission to the School of Graduate Studies and Research following the procedures outlined in the Graduate Catalog,
Successful completion of the departmental review process as outlined in the handbook,
Submission of a GA application to the School of Graduate Studies and Research by March 15, and
Submission of the Professional Studies in Education graduate assistant application and a current resume or curriculum vita to the DEd in Curriculum and Instruction coordinator.
Purpose of the Graduate Assistant Program
The purpose of the graduate assistantship program is to provide mutual professional development opportunities for the graduate student and the faculty mentor. The graduate assistant program is one important way in which the School of Graduate Studies and Research supports research and scholarship at IUP.
Role of the Graduate Assistant
Appropriate duties for graduate assistants include:
Conducting library research and compiling a literature review
Collecting, coding, and analyzing research data
Supporting innovative projects in the PSE Department
Providing support to a faculty member's teaching and supervision (with the faculty mentor present)
The following activities are not appropriate for a graduate assistant:
Performing contractual duties of the faculty mentor (e.g., teaching classes without the faculty mentor present, field supervision without the faculty mentor present, covering office hours, advising students)
Clerical work that exceeds 10 percent of the total assistantship assignment
Assisting the faculty mentor with personal/professional tasks (e.g., preparing a tenure or promotion file for a faculty member)
Engaging in instructor of record activities (e.g., assigning grades)
According to the policies of the School of Graduate Studies and Research, graduate assistants are not clerical workers; their role and function is to support scholarship and research. Faculty in the Professional Studies in Education Department write proposals to request a graduate assistant, and the description of the activities in these proposals serves as a job description for the graduate assistant.
Types of Assistantships
There are several different options for the assignment of graduate assistants. They are described below.
Twenty-Hour Graduate Assistantships
Work Duties
Graduate students must be full-time graduate students who are enrolled in nine credits in the fall and spring semesters. Graduate assistants in the PSE Department are assigned to a faculty mentor who has submitted a proposal/job description and is conducting research. A 20-hour graduate assistant works for the faculty mentor 20 hours per week during both the fall and spring semesters. No work duties are assigned during the summer for GAs who were assigned during the fall and spring semesters.
Tuition
Full-time graduate assistants who work 20 hours in both the fall and spring semesters receive a full tuition waiver (up to 12 credits) in the fall, spring, and summer for a maximum of 36 credits. If a graduate assistant works just one semester, the tuition waiver is (4.5 credits if registered for nine total credits, or six credits if registered for 12 credits).
Stipend
The doctoral stipend is approximately $6,000 per year. If a doctoral student works one semester (only), the stipend is half of that amount.
Ten-Hour Graduate Assistantships for Part-Time Students
Work Duties
Work 10 hours per week, fall and spring semesters. Nontraditional graduate assistantships are reserved to provide tuition support and opportunities to engage in scholarly work for students who are employed during the regular working day. The expectation is that the 10-hour GA would use technology to communicate and submit work assignments to their faculty mentor and meet on an as-needed basis at times other than the typical school day of 8:00 a.m. to 4:30 p.m. No work duties are required during the summer. Students must be registered for six credits in the fall, spring, and summer semesters in order to qualify.
Tuition
If the 10-hour graduate assistant and part-time student works both in the fall and in the spring semesters, the tuition waiver is half of that awarded to 20-hour graduate assistants—three credits in fall, spring, and summer. If the quarter-time graduate assistant works one semester only, tuition waiver is for three credits during that semester (only) and the following summer.
Stipend
The stipend would be half of the doctoral stipends listed above for a 10-hour graduate assistant—about $3,000. In the case of a one-semester, 10-hour GA, it would be one-quarter.
Graduate Assistantships/Summer Only
Work Duties
Work 20 or 10 hours per week for the entire summer session. Summer graduate assistantships typically are reserved for support doctoral students who are nearing completion of their programs.
Tuition
For 20-hour and 10-hour summer graduate assistantships, the tuition waiver is for a maximum of 12 credits. Summer graduate assistants must register for an absolute minimum of nine credits for the entire summer.
Stipend
The stipend for a 20-hour summer GA is half; the stipend for a 10-hour summer GA is one-quarter. Stipend-only awards are also possible; a 20-hour summer GA gets a half stipend and no tuition waiver, while a 10-hour summer GA gets a one-quarter stipend and no tuition waiver.