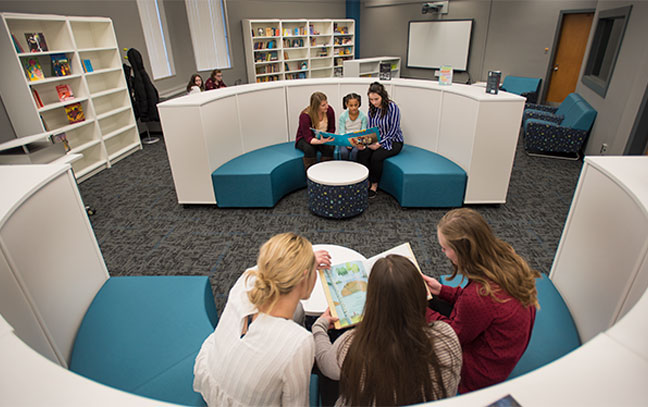 Become an Inspiring Reading Specialist
As a teacher, you know that strong reading skills are essential for opening the world of learning for each student. You also know that some students need focused support from a reading specialist. And you want to be that inspiring teacher with expertise in literacy instruction, so you can help all students become successful readers and writers.
The MEd in Literacy program at IUP will prepare you as an educator to become a reading specialist dedicated to helping kids learn to read and write well, especially students who struggle with literacy development.
In the process, you'll earn a Reading Specialist Certification.
As a reading specialist, you'll work with students, often in a school setting, to identify their competencies and limitations with literacy. Then, you'll use your literacy expertise to develop a plan to help these students acquire literacy strategies and skills. As your students progress and improve, you'll know you're making a difference in this vital role.
If you're certified in teaching, the MEd in Literacy program will ground you in three key areas:
Evidence-based instructional practices
Literacy leadership
Literacy research and theories
When you've completed the MEd in Literacy program, you'll be equipped to help children improve their reading and writing skills, gain confidence, and thrive as learners.
What You'll Learn
In the MEd in Literacy program, you'll gain advanced knowledge and training in literacy studies to become a confident, compassionate reading specialist.
You'll learn how to:
Implement evidence-based methods of literacy instruction.
Coach classroom teachers in effective literacy instruction.
Translate the latest research on literacy into your teaching practices as you work with students. 
Effectively assess students' literacy knowledge and design appropriate interventions based on assessment results.
Imagine Your Future
As a graduate of IUP's MEd in Literacy program, you'll have many opportunities to make an impact.
If you're already working as a classroom teacher, you'll be able to bring your advanced training in literacy to your students every day, across different subjects.
If you want to focus on literacy instruction exclusively, you can step into a dedicated position as a literacy specialist for a school district, helping each student become a strong reader and writer.
Classes and Requirements
At IUP, the MEd in Literacy program is sequenced carefully to mirror the academic year in your teaching position, so you can apply what you learn in real time to help the students in your classroom.
As an example, we offer a course on literacy assessment in the fall semester because this is when you will conduct initial assessments about your students' literacy development. This scheduling means you can put what you're learning about essential literacy assessments to use right away to develop the best approach for teaching your own students, based on their individual needs.
Full Academic Catalog Listing
The course catalog is the official reference for all our degree and course offerings. Check it out for a full listing of the classes available and requirements for this degree.
Resources from the Bill and Judy Scheeren Literacy Center
Whether you're pursuing a role as a reading specialist or as a literacy-trained classroom teacher, it's essential to have assessment and text materials to help you teach effectively. The Bill and Judy Scheeren Literacy Center at IUP gives you convenient access to these resources when you need them.
If you're a local student in the MEd in Literacy program, you can access the online digital catalog and request materials for checkout.
Receive Financial Support through a Graduate Assistantship
You aspire to become a reading specialist. But what if you don't have a full-time teaching contract—and the compensation that goes with it? To help, IUP offers graduate assistantships that can provide students in the MEd in Literacy program with tuition waivers and a stipend toward living expenses.
If you receive a graduate assistantship, you will serve as a Literacy Graduate Assistant (GA) in a school district. You'll be a reading specialist intern and provide literacy support to students and instructional support to teachers. As a result, you'll gain hands-on experience in this role to complement your MEd in Literacy program studies.