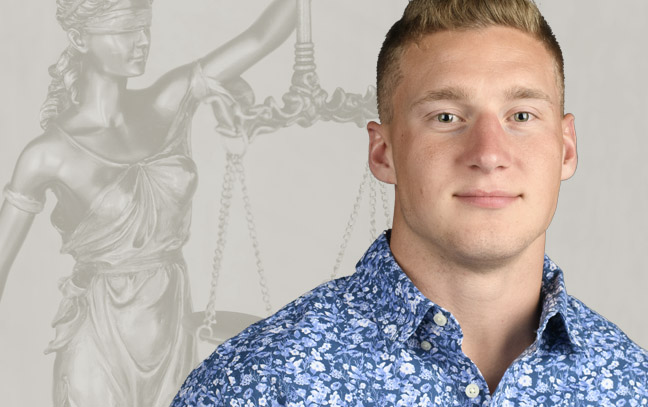 Learn to Lead—Take Your Career Further with a Master's in Criminology
Become part of the next generation of leaders in the criminal justice system by earning your MA in Criminology and advance your expertise to take your career further.
For more than 40 years, IUP's Master's in Criminology has prepared students like you for administrative and research careers in the criminal justice system. Today, you can complete the program on campus or choose to study online to fit your professional and personal commitments.
Fast-track Your Future in Criminology
Two unique "fast-track" options also are available to incoming students. One allows you to be admitted into a bachelor's-to-master's program ("4+1") while you're still in high school. The other ("early admission") enables you to start master's degree-level work while still pursuing your bachelor's degree.
What Makes the MA in Criminology Right for You?
This MA in Criminology graduate degree program prepares you for leadership positions in federal, state, and local law enforcement as well as corrections, probation and parole, and juvenile justice.
Whether you're new to the profession or already working in the criminal justice field, you'll gain knowledge and skills considered hallmarks of an effective evidence-based criminal justice practitioner:
Criminology theory
Quantitative analysis
Research methodology
As a master's-prepared criminology professional, you'll also have a solid foundation to further your education through doctoral study, the next step toward becoming a university professor and researcher.
What You'll Learn
Our Master's in Criminology degree program combines practical instruction with inventive electives. You'll learn about theory, research methods, and working with statistics, then you'll choose electives that are focused on historical and contemporary criminal justice issues.
A synthesis or thesis project is required for graduation. A dedicated faculty advisor will help you throughout your program and project.
Imagine Your Future
Upon earning your MA in Criminology from IUP, you'll have:
A chance to earn an increase in salary.
A greater opportunity to be considered for promotion within your organization.
Become a lifetime member of a worldwide IUP alumni network with which to advance your career, influence, and knowledge.
While most positions in the criminal justice field don't require a master's degree for employment, earning an advanced degree will grow your opportunities for promotion and put you on track for top leadership positions.
Postgraduate education is often considered a substitute for specialized experience in the hiring and promotion processes. At the state level, the Pennsylvania State Police requires a master's degree for promotion above the rank of lieutenant. Additionally, a review of federal agency sites shows that a master's degree (or equivalent) is often required for a GS-9 ranking.
Industries Looking for You
Graduates of IUP's MA in Criminology program work in a variety of areas, including federal, state, and local law enforcement and corrections. Other alumni work for federal and county probation and parole offices, while still others focus on juvenile justice.
Among the many employers anxious to hire our alumni, the organizations some of our graduates have gone on to work for include:
Alice Paul House
CIA (Central Intelligence Agency)
FBI (Federal Bureau of Investigation)
Indiana County Community Guidance Center
Office of Personnel Management
Pennsylvania State Police
US Customs
Classes and Requirements
At IUP, you can earn your Master's in Criminology while maintaining your current career. Full-time students can complete the program in one year by taking two courses every 7.5 weeks during the fall and spring semesters (for a total of eight courses). Part-time students typically graduate in two years by taking just one course every 7.5 weeks.
To graduate, you're required to complete 30 semester hours. You'll choose between a thesis or non-thesis curriculum track. The thesis option requires you to work with a faculty member to develop an independent research project. The non-thesis option requires you to take the capstone course plus an additional elective course. The capstone course allows you to bring together everything you have learned into a final project.
You can also choose to study 100% online. Our nationally ranked program allows you to learn from our experienced faculty and advance your career from the convenience of your own home.
Full Academic Catalog Listing
The course catalog is the official reference for all our degree and course offerings. Check it out for a full listing of the classes available and requirements for this degree.
It's an Honor to Join Alpha Phi Sigma
For more than half a century, honors student in criminal justice have come together as members of Alpha Phi Sigma to foster its four ideals: academic excellence, unity, leadership, and service.
IUP is home to the Alpha Eta chapter of Alpha Phi Sigma. The Criminal Justice Honor Society was founded in 1942 and is the only nationally recognized honors organization for criminology students. To join, you must be enrolled full- or part-time in a criminal justice degree program and have high moral character. As a graduate student, you'll need at least a 3.4 cumulative GPA or rank in the top 25 percent of your class.
Graduate Assistantships: Get Help Funding Your Education
Master's students at IUP can participate in graduate assistantships, working alongside our faculty. Graduate Assistants earn a small stipend and funding towards tuition, helping you offset the cost of school while you gain valuable, practical experience.
Early Admission Program
If you are working on your Bachelor's degree in Criminal Justice you can get a jump-start on the MA in Criminology degree through our "early admission program." You can apply for this unique program during the semester in which you'll earn your 90th credit—typically the spring semester of your junior year. To qualify, you also must have at least a 3.25 GPA and have earned at least 15 credits in your major.
About Early Admission to Graduate Programs
4 + 1 Program
If you are a qualified high school senior, you can apply for your MA in Criminology at the same time you apply for admission to IUP for your bachelor's degree. If you maintain high academic standards, you'll be admitted early into the Master's of Criminology degree program.
Learn More about the 4+1 Program
CGSO: Your Program, Your People
Finding special-interest groups that nurture you throughout your education is essential for your academic success—and a great way to begin networking for your future.
At IUP, the Criminology Graduate Student Organization (CGSO) is committed to serving graduate students like you and supporting your success. The CGSO sponsors two "Brown Bag" luncheons featuring criminology faculty members discussing various topics each semester. Past luncheons have covered:
Academic job searches
Performing research with faculty
Professional development in academia
Web-based surveys
Involvement in the local community is vital to CGSO. Its annual "Bowling for Kids" event raises money for Big Hearts/Little Hands of Indiana County.