Graduate students at IUP have the opportunity to earn two master's degrees at the same time. In this case, credits earned in both degrees may be shared, reducing the time and money required to earn your advanced degrees.
The Basics of IUP's Dual Enrollment
If you have been admitted to two graduate programs at IUP at the same time, or you are admitted to a second degree while a student at IUP, you can share up to 50 percent of the credits earned in one degree with the other as long as the classes fit into one of two criteria:
The shared courses are required courses or electives in both programs, or
The courses are accepted as substitutes by the graduate coordinator for your program of interest.
Sharing courses allows you to earn two degrees in less time, and at a lower cost. You can read more information about our dual enrollment policy in IUP's Graduate Catalog under University Policies.
How do I know if my Program of Interest is Eligible for Dual Enrollment?
Only master's degrees participate in dual enrollment, and not all of our master's-level programs can accommodate dual-enrolled students. To learn more about whether the program(s) in which you are interested is eligible for dual enrollment, contact your graduate program coordinator.
How do I apply for Dual Enrollment at IUP?
To apply for dual enrollment, you will have to submit a separate application for each program you want to join. As you fill out your applications, please select Yes at the bottom of the Additional Information section to the question "Do you wish to obtain a dual graduate degree?"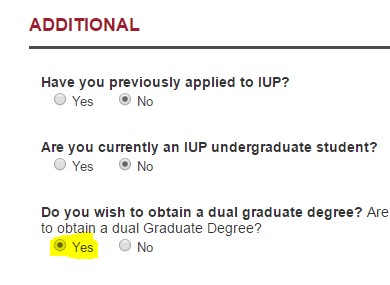 Important: you will need to select this option in both applications you submit. Contact Graduate Admissions at graduate-admissions@iup.edu with any questions about the application process.
Which Supplemental Items Will Count for Both Applications?
To complete an IUP application, you will need to submit items such as transcripts, goal statements, and letters of recommendation. When applying for dual enrollment, some of these documents can transfer from one of your applications to the other.
You will need to submit an online application for each program of interest.
You will only have to submit one set of official transcripts for both of your applications. In addition, letters of recommendation can carry over if they are equally applicable to both programs of interest. Goal statements can carry over, but we encourage you to submit a separate goal statement for each program to which you apply.
If your program(s) of interest require official test scores, these can be used for both applications.
If you wish to use any documents other than your transcripts or test scores for more than one application, please contact Graduate Admissions at graduate-admissions@iup.edu or at 724-357-2222.
What Happens Once I Have Completed Both of My Applications?
Once your application(s) are complete, each will be considered separately and according to the application requirements for that program. If you are admitted to both, you will receive separate admission letters for each program.
Once you have gained admission to both programs eligible for dual enrollment, work with your graduate advisors to schedule classes that meet the criteria for both. Your graduate program coordinator can put you in touch with your advisor, and get the process started.