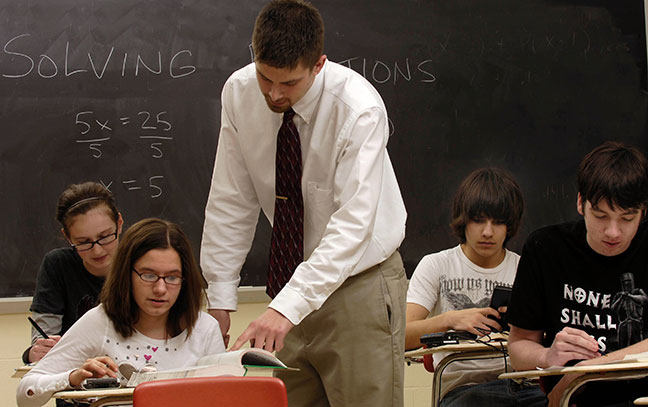 Become the Teacher or Teacher Leader You Aspire to Be
You're passionate in your belief that all kids deserves a great math teacher to help them understand what mathematics is all about.
You aspire to be that standout teacher, or you're aiming to become a teacher leader who supports other educators teaching mathematics.
IUP's MEd in Mathematics Education program can help you excel in either (or both) of these roles, and at a time when demand is high for good math teachers in Pennsylvania and across the country.
According to research, the mathematical knowledge needed by today's teachers and teacher leaders is substantial, yet quite different from that required by students pursuing other mathematics-related professions. The MEd in Mathematics Education program is designed around the most current research in best practices for teaching mathematics and is focused on making essential connections between the mathematics you study and the mathematics you teach.
The MEd in Mathematics Education program offers two specializations, which are meant to allow working professionals like you to focus on the grades that match your career goals:
Secondary Mathematics Education Specialization
Elementary and Middle-Level Mathematics Education Specialization
Why Earn an MEd in Mathematics Education at IUP?
IUP has been ranked among the top 15 schools in Best Value Schools for graduate math education in 2022 and 2021, and recognized by US News and World Report as one of the best schools for online programs in 2022, 2021, and 2020.
The curriculum emphasizes the relationship between the math you study and the math you teach.
The fully online, asynchronous format allows you to start any time and take courses in any order. 
Meet Level II certification requirements for Pennsylvania teachers.
What You'll Learn
Innovative, research-based teaching practices that deepen your mathematical content knowledge at the elementary, middle, and secondary levels.
Ways to develop your K-12 students' ability to reason, problem solve, connect, justify, and communicate mathematical ideas.
Strategies to create effective mathematics lessons, units, and classroom routines that your students will enjoy.
How to plan successful classroom practices by analyzing math curriculum, instruction, and current research.
How to develop teaching strategies for differentiating mathematics content and instruction.
Imagine Your Future
As a graduate of IUP's MEd in Mathematics Education program, you'll enjoy several distinct advantages, including: 
Increased earning potential
Thorough preparation to pursue a doctoral degree
Seeing how your advanced skills and knowledge benefit your students
A competitive edge with potential employers
Earning this degree opens doors to leadership positions within your school, district, and beyond, including:
College instructor
Department chair for middle school mathematics
Elementary program math leader
High school math department chair
Instructional coordinator
Mathematics coach
Mathematics specialist
More than half of teachers earn a master's degree before age 30. Pennsylvania teacher salaries rank in the top 10 of those throughout the US.
Teacher Salary Pay Ranges across Pennsylvania
The following are teacher salaries from various counties for school districts in Pennsylvania. The range in salaries is for a teacher who just earned a master's degree at year five or year 15 (that's the lower number) and for a teacher who earned a master's a few years ago and has since taken more courses (that's the higher number).
Philadelphia area school district salary (Delaware and Chester counties) in 2022:
Master's degree with five years of experience: $65,710–$74,686
Master's degree with 15 years of experience: $97,640–$110,686
Pennsylvania mid-state area school district salary (Franklin County) in 2021:
Master's degree with five years of experience: $47,966–$62,164
Master's degree with 15 years of experience: $52,462–$75,080
Pittsburgh area school district salary (Allegheny County) through 2023:
Master's degree with five years of experience: $48,486–$57,132
Master's degree with 15 years of experience: $68,000–$85,311
Pittsburgh suburban area school district salary (Westmoreland County):
Master's degree with five years of experience: $51,579–$63,172
Master's degree with 15 years of experience: $77,450–$97,443
Classes and Requirements
What You'll Study
Courses in the MEd in Mathematics Education program are designed and taught by mathematics education faculty, so you'll learn from teaching professionals with years of classroom experience. As you go through the program, you will become more student focused by engaging in problem-based coursework.
The program requires 12 credits of mathematics education coursework specific to your specialization.
For the remaining 24 credits, you will study important, related areas that expand your skills for teaching mathematics. Required mathematics education coursework analyzes curriculum and instruction, explores current trends in research, and examines ways to differentiate your classroom instruction. In addition, you'll enhance your classroom by choosing among mathematics education electives and other teacher education coursework.
Graduation Requirements
Your advisor will guide you in completing the required 36 credits in four broad areas:

Education and Educational Research (6 credits)
Mathematics Education Core (9 credits)
Mathematics Education Content (12 credits)
Mathematics Education Electives (9 credits)

You will apply for graduation during the semester you're completing the final credits of your coursework.
Full Academic Catalog Listing
The course catalog is the official reference for all our degree and course offerings. Check it out for a full listing of the classes available and requirements for this degree.
Admissions Information
The admissions team for the MEd in Mathematics Education program gladly welcomes your application.
Graduate applications are reviewed throughout the year.
Admission decisions are made in the fall, spring, and summer semesters.
There is no deadline to submit your admissions application.

Admissions criteria
You must have a minimum cumulative undergraduate grade point average of 3.0 (on a 4.0 scale). Your degree must be earned from a regionally accredited institution.
While we prefer that your bachelor's degree be in education, mathematics, or a mathematics-related field, we will consider other degree programs as well.
How to Complete Your Admissions Application
To complete your admissions application, make sure to:
Create and submit an admissions profile through graduate admissions.
Pay the $50 application fee.
Submit official transcripts from all degree-awarding colleges and universities. Unofficial transcripts will be considered for admission purposes.
Provide two letters of recommendation.
Submit an updated resume.
Write a goal statement describing how you expect the MEd in Mathematics Education program to help you achieve your career and academic goals. Your goal statement must be a minimum of two pages, double-spaced.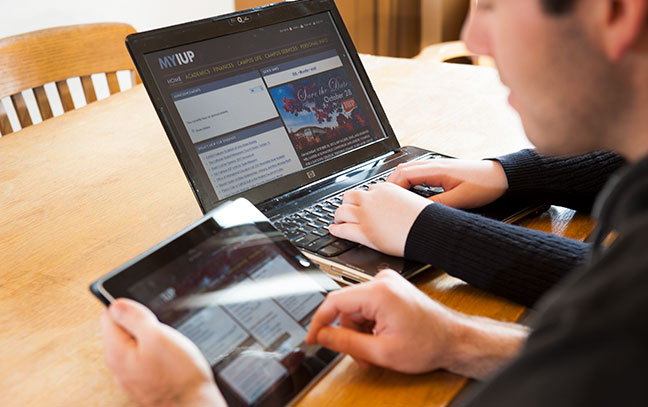 Scholarships, Grants, and Student Loan Forgiveness
You want to grow professionally but may need financial support as you achieve your career goals. You'll have several options to explore:
The MEd in Mathematics Education program offers scholarships and graduate assistantships to new and continuing students.
Learn if you are eligible for federal aid by completing your Free Application for Federal Student Aid (FAFSA).
Does your school district provide funding for graduate coursework? Consider completing the Employer Tuition Reimbursement Form.
Grants for graduate classes are available from the National Council of Teachers of Mathematics.
Federal teacher student loan forgiveness programs are available for math teachers.
The MEd in Mathematics Education program is online, and distance education costs are less than costs for in-person programs. If you're an out-of-state student, this reduced tuition cost could benefit you.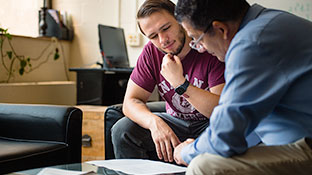 Engage in Research for Professional Growth and Sharing with Other Math Teachers
As a graduate student in the MEd in Mathematics Education program, you'll have many opportunities to explore the world of mathematics education, including:
Working with faculty members to author articles in scholarly journals.
Presenting research at local, state, national, or international conferences with a faculty mentor.
Developing curricular materials that can be used in the classroom.
As examples, students have taken part in the following opportunities:
A recent graduate worked with a faculty member on an article for teaching fraction operations for middle-school students using hands-on materials.
A faculty member mentored a recent graduate who wrote an article for teaching high school algebra students how to factor quadratics using the innovative technology Nearpod.
A graduate student gave a presentation about her internship to an audience at the National Council of Teachers of Mathematics conference, then wrote an article.
Have a Bachelor's Degree?
Earn Mathematics Teaching Credentials while Pursuing a Master's Degree
You have an undergraduate degree in mathematics or another mathematics-related program, and you have a passion for numbers and helping people—especially kids—learn mathematics. At IUP, we want to make it possible for you to learn how to teach secondary (grades 7–12) mathematics as you earn your MEd in Mathematics Education.
The following mathematics-related occupations are examples of career paths that fit well with earning your secondary mathematics teaching credentials:
Actuary
Astronomer
Computer scientist
Engineer, economist
Financial analyst
Market or operations research analyst
Physicist
Additionally, if you are interested in pursing your secondary mathematics teaching credentials and your bachelor's degree is in a non-mathematics field, please reach out to the graduate coordinator to explore your options.
Are you interested in teaching slightly younger students? If you have a bachelor's degree and want to earn your credentials for teaching grades 4–8 math, contact the graduate coordinator for the MEd in Mathematics Education program.