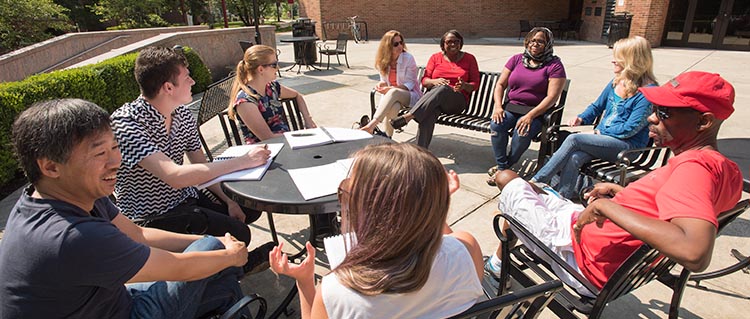 Application Deferral
If you find you need to defer your enrollment for a term other than the one you applied, please email graduate admissions or call 724-357-2222.
Disability Services
IUP is committed to ensuring access and services for graduate students with disabilities. Disability Access and Advising (D2A2) is the designated office through which access services are provided or to which documentation should be sent. If you have a disability of any type (medical, physical, psychological), and/or if you have had an IEP or a 504 Plan in high school, services at another university, and/or are a client of OVR, please contact us at disability-access@iup.edu.
Financial Resources
If you need to make tuition and fee payments, you can do so in a few different ways: IUP Easy Pay (found through MyIUP), directly in the Student Billing Office, depository, and by mail.
Visit our costs and financial aid page for information on options for financing your degree.
Learn more about graduate research funding.
Getting Involved
There are a variety of clubs and social/professional networking opportunities on campus. From the Graduate Student Assembly to individual program-based clubs, students from across the university get together to socially connect and share research.
Technology
IUP has a range of public computer labs equipped with a wide variety of software, and some of these labs contain specialized software related to the college or department hosting the lab. All students are allotted space on the H drive, which you can access on any campus computer once you're logged in. You can also map the drive to your own computer.
IUP offers hardware support to students with computer problems. We also offer a variety of software for students at a discounted price with a valid I-Card.
Dining
Check out the dining options on campus.
Additional IUP Links and Resources
Off-campus Resource Guide
For out-of-town and international students
Transitioning to a new area for graduate school can be a challenging experience. In addition to new classes and opportunities, you probably want to know where to live, shop, and eat around your new home. This list is designed as a starting point for answers to some of the questions you might have. Below you will find resources near campus, including apartment complexes, local shopping, and delicious restaurants. You'll also find lists for areas close to our campus such as Pittsburgh (1 hour and 15 minutes), Greensburg (45 minutes), and Latrobe (30 minutes).
If you are interested in finding out more about any of these resources, consider taking a campus tour with Graduate Admissions. We offer a variety of dates to help show you around campus and learn more about the area. Check out our list of dates and times. If none of these work for you, you can reach out to our office at graduate-admissions@iup.edu or 724-357-2222. We would be happy to schedule a different time for you.