Living on campus? Close to campus? Come dine with us! No matter where you are, IUP Dining Services has a great location just for you.
Check out all of our dining options and see who is open right now, by checking Campus Dish.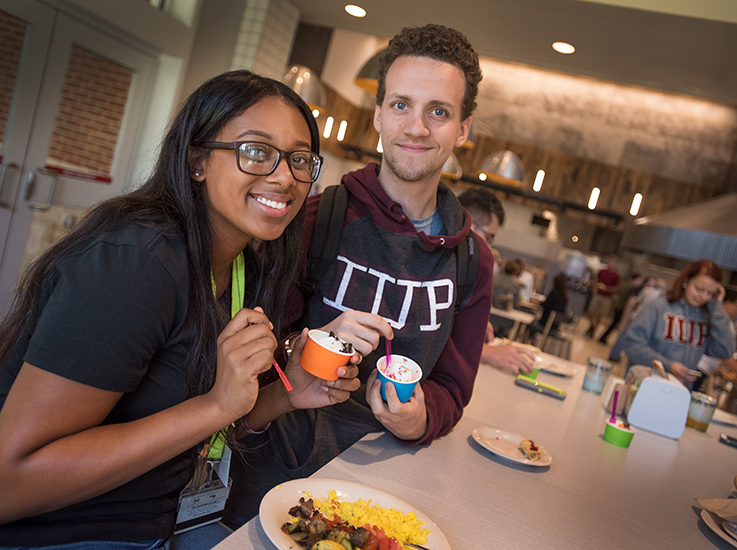 Helpful Links for Students
Costs and Policies
Dining costs at IUP (per person per semester)
Links to housing and dining costs for fall, spring, and summer
Policies relating to on-campus dining, including meal plans, payment, flex dollars, and cancellation
Making Your Meal Plan Work For You
GrubHub - Please consider using GrubHub first before other options
Mobile ordering to go (delivery is not available). Please download the app and link your card. Click here for instructions.
Do You Have a Special Diet?
Nutritional information is available for all menu items in each dining facility and through Campus Dish for North Dining Hall. In addition, each location provides low-fat, low-calorie entrees, salads, yogurt, and other healthy options. For students who need to follow a specific diet for health reasons, individually prepared meals can be provided. Our campus dietitian is available to help with any questions, concerns, healthy eating tips, fitness, weight management, and eating disorders. You can reach the dietitian by phone at 724-357-2570.
Understanding Flex, Meal Swipes, Crimson Cash, and More
Meal swipes pay for meals and have a cash equivalency that can sometimes be applied. It's important to understand where you can use meal swipes, how they work, and how you can keep track of them.
What is Flex?
Flex is the additional money added to your meal plan to enhance your dining experience. Flex works like a prepaid credit card and is deducted off your I-Card when you swipe. The balance in your Flex account carries over from the fall semester to the spring semester. However, at the end of the spring semester, the dining contract is concluded and any remaining Flex dollar balance is forfeited. If you run low on Flex, simply reload. Add more Flex online in MyIUP or at the Office of Housing, Residential Living, and Dining.
Crimson Cash is accepted at most dining locations and is used like cash where it is accepted.
Deadline to Change Meal Plans
The deadline to submit meal plan change/cancellation requests is 4:30 p.m. on the Friday of the first week of each semester. After that date, changes/cancellations will not be accepted. In addition, once you select a meal plan, the charge for that meal plan will be added to your student account immediately, and you will be responsible for paying for the meal plan, regardless of whether the plan is used unless canceled by the deadline date.
Need an Event on Campus Catered?
See the Aramark IUP Crimson Catering Guide.
Need a Job?
The dining service hires many students each semester to work in the various dining facilities. For more information about available positions, contact personnel at any dining location. Job possibilities include cashier or checker, cleaning tables/floors, food preparation/serving, cleaning dishes, general labor, and student manager.