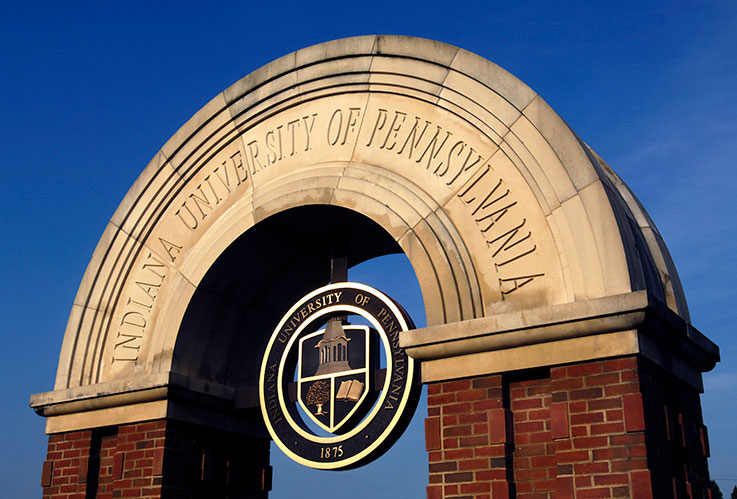 IUP offers the best of both worlds:
The academic opportunities of a large university with global connections and impact, with the highly personalized and intimate learning-centered environment of a small college.
Nearly 9,000 undergraduate and graduate students are enrolled in our more than 160 accredited and nationally recognized programs (from the undergraduate to the doctoral), enjoying traditional and nontraditional classroom experiences, engaging in research and service activities with their faculty mentors, becoming lifelong learners, preparing for rewarding careers and productive lives, and developing leadership skills for effective citizenship—graduating with the skills and drive they need to change the world.
Rankings
Indiana University of Pennsylvania has appeared for 22 Years in the Princeton Review's Best Colleges guidebook. We've been consistently recognized as a "Best Bang for the Buck" university by Washington Monthly and as one of the top universities in the nation based on "what universities do for the country." And we have been ranked as one of the top universities in the nation by the Wall Street Journal/Times Higher Education.
IUP's most recent accolades include:
2022: Second in Pennsylvania for affordability, third in Pennsylvania as a "best public college," top 20 in Pennsylvania "best overall" university, AcademicInfluence.com

2022: "Best National University" and "Top Performer in Social Mobility," U.S. News & World Report

2022: "Best for Vets," Military Times

2022: Best online programs in the nation: master's in nursing, master's in mathematics education, master's in criminal justice, U.S. News & World Report

2022: Second in the nation, first in Pennsylvania: master's in criminology program, Intelligent.com

2022: Center of Academic Excellence in Cyber Defense, National Security Agency

2022: Fifth in the nation: master's in food and nutrition, OnlineU
Want to know more? Check out the Points of Pride for highlights about IUP students, faculty and staff, and alumni.
Students
IUP students are bright, inquisitive, and accomplished, and IUP has resources in place to help every student achieve their goals and dreams. The Undergraduate Research Office helps connect students to hands-on research and be successful in winning national awards like Fulbrights and Goldwater Scholarships.
IUP students routinely are selected for prestigious awards and scholarships. For example:
University Accreditation
IUP is very proud to hold university-wide regional accreditation through the Middle States Commission on Higher Education, the "gold standard" of external evaluation.
In addition, scores of individual programs have undergone self-study and external review by experts in those disciplines to ensure that the programs meet professional standards and prepare students for careers in those fields.
Where We Are
IUP is proud to call four communities—Freeport, Indiana, Pittsburgh, and Punxsutawney—home.
IUP's central campus is located in the heart of the community of Indiana. IUP's campus has grown from 12 acres and one building in 1875 to 354 acres and 65 major buildings. The entire Indiana campus is part of the Allegheny Arboretum, a living museum devoted to the study, conservation, and enjoyment of trees, shrubs, and vines. The IUP Student Cooperative Association owns and operates the Hadley Union Building complex adjacent to the Indiana campus, and owns and maintains the 280-acre Co-op Recreational Park, a 10-minute drive from campus, which offers 10 miles of hiking and walking trails, a disc golf course, softball fields, a fishing pond, and archery range. Two lodges are available on the property for events and meetings.
Indiana has a population of about 14,000 people; it has a vibrant, welcoming downtown district with shopping, a community theater, and a movie theater and performance center. It is also home to the Jimmy Stewart Museum. There are family-friendly events downtown weekly, including a Memorial Day jazz festival and a Christmas parade that attracts thousands of spectators. Indiana is part of Indiana County, which includes 14 boroughs and 24 townships—and several parks and recreation centers, including a number of lakes and rivers. More than 88,000 people make their home in Indiana County, which is proud to have earned the designation of the "Christmas Tree Capital of the World."
Punxsutawney hosts both IUP Punxsutawney and the Academy of Culinary Arts, which includes buildings in and around the downtown.
Punxsutawney offers the best of a small-town, welcoming community and is known around the world for its annual February 2 Groundhog Day celebration, when the groundhog Punxsutawney Phil makes his weather prediction.
Freeport, located along the Allegheny River, is home to IUP's Northpointe campus in the Armstrong Innovation Center; a number of first-year student classes are offered there.
Pittsburgh East, a center for a number of graduate programs, is in the Penn Center Building in Wilkins Township. Wilkins Township borders eight Allegheny County neighborhoods, and the Penn Center Building is adjacent to a number of restaurants and shopping areas and within minutes of downtown Pittsburgh.
Degree Programs
IUP is the only university in the Pennsylvania State System of Higher Education to offer doctor of philosophy degrees. Degrees are offered from the broader, more traditional (philosophy, anthropology) to the career specific (safety sciences, respiratory therapy).
IUP boasts:
Browse our full list of degree programs.
Athletics
IUP competes in the Pennsylvania State Athletic Conference and is an NCAA Division II member.
IUP has a total of 21 intercollegiate athletic teams in basketball, cross country, diving, field hockey, football, golf, lacrosse, soccer, softball, swimming, tennis, track and field, and volleyball. IUP teams have won 104 PSAC championships and two national team championships; a number of student-athletes have won national championships. Teams routinely earn berths in national championship competitions.
Scholarships are available for all varsity sports.
IUP's athletic program focuses on the overall student-athlete experience by providing opportunities for success in the classroom, in competition, and with community service opportunities of all types. IUP student-athletes are routinely honored for academic excellence with Academic All-American awards, NCAA Elite 90 Awards, and PSAC Champion Scholars and PSAC Scholar-Athlete recognitions. IUP teams have earned 12 PSAC Team PGA (grade point average) awards since 2011.
IUP students also get involved in a variety of club and intramural sports.
Colors
Our colors are crimson and gray.
The Foundation for Indiana University of Pennsylvania
The Foundation for Indiana University of Pennsylvania is a separate nonprofit organization founded in 1967. The mission of the Foundation is to assist the university with achieving its goals by maximizing private support and acquiring or otherwise providing scholarships, buildings, grounds, or other suitable facilities, improvements, or equipment for the university and students.